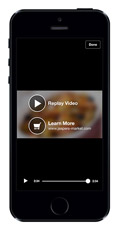 Facebook has today unveiled new ways for brand marketers to increase awareness, affinity and brand lift – in the form of expanded video ad capabilities and reach and frequency buying.
Key features of these new offerings include:
Enhanced, goal-driven video targeting: Advertisers with the goal of driving video views will have a new objective ('video views') to choose from when creating an ad with the Ads Create Tool, Power Editor, and/or API.
And, when advertisers pick this objective, Facebook will automatically optimise the targeting to show the ads to the people most likely to view videos on Facebook, across devices and target audiences.
Additionally, advertisers with account representatives will be able to show people who have viewed a specific video additional ads, whether video or photo ads, through a new retargeting feature.
New engagement tools: Marketers will now have the option to add a call-to-action button to their video ads, helping advertisers drive deeper brand engagement.
Better reach and frequency control: Advertisers with account representatives will now have the ability to predictably manage the size of their audiences and the number of times those audiences are shown their ads. And, since Facebook targeting is based on real identities, marketers will be able to more accurately control this across devices.
These new offerings will roll out globally in the coming weeks. You can read more about these features, with comments from Facebook product manager Fidji Simo, here.
---