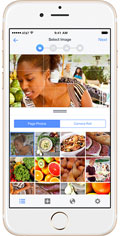 Facebook has now reached more than two million active advertisers, up from 1.5 million half a year ago and 1 million 18 months ago. Facebook has also unveiled a new Ads Manager app to help businesses manage their ad campaigns on the go, through their mobile devices.
Roughly 35% of US small businesses don't have a web presence at all, but more than 30 million businesses around the world actively use Facebook Pages because they're free, easy to use, and they work well on mobile. Below are three reasons (supplied by Facebook) more businesses are turning to Facebook to grow:
Easy – Facebook's tools are easier than ever to use. Of newly acquired advertisers in Q4 2014, 80% used our easiest ad tools, particularly promoted posts.
Mobile – The consumer shift to mobile is making more business owners want to use Facebook's mobile tools to reach customers and manage their businesses. For instance, over 15M SMBs use our Pages Manager app to manage their Pages on mobile.
Effective – We've proven to businesses that our ads work: we want to make sure that every dollar they spend with us improves their bottom line. Tools like conversion tracking have accelerated better measurement for SMBs.
More info about the Ads Manager app here.
---