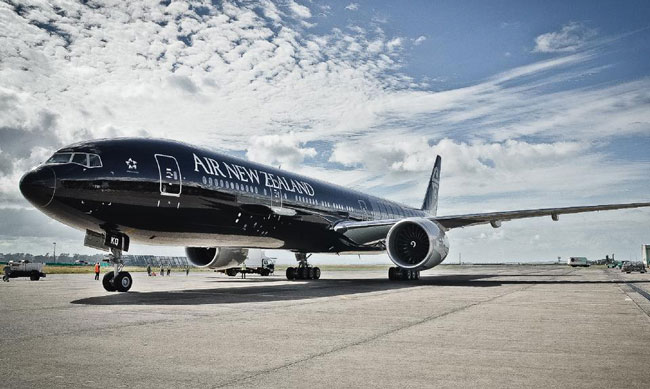 Air New Zealand has maintained its position as New Zealand's most reputable company in the annual Colmar Brunton Corporate Reputation Index, released this morning.
The airline beat Toyota for the top spot, with AA Insurance, Z Energy and The Warehouse Group (the only newcomer to the top five this year).
Other leading companies from their particular sphere of business in the top 20 include Fisher & Paykel, Kiwi Bank, Apple, Mitre 10 and Genesis.
The Colmar Brunton Reputation Index, developed in partnership with Wright Communications, is the only one of its kind in New Zealand and features the top corporates in this country by revenue.
"Our research on corporate reputation in New Zealand is the most exhaustive to date," said Colmar Brunton ceo Jacqueline Farman.
"The Corporate Reputation Index gives New Zealand companies a unique insight into their reputation, which is crucial to their overall business."
The index uses the RepZ model, created by Colmar Brunton's international parent company, Millward Brown, which measures companies across four categories – social responsibility, fairness, success and trust.
Air New Zealand scored 116 points overall, with Toyota totaling 111 and AA Insurance and Z Energy tied on 110.
But the airline probably should not rest on its laurels as its score was two points less than in 2015.
Toyota and AA Insurance moved up to second and third with no change to their index scores from 2015.
Z Energy and Fisher & Paykel both experienced a drop in reputational performance compared to 12 months ago
Spark and Fairfax entered the top 20 for the first time this year, while Foodstuffs, the owner of Pak 'n Save and New World fell from 11 to outside the top 20.
Wright Communications Managing Director Nikki Wright said actions speak louder than words, but communications plays a vital role in improving and maintaining corporate reputation.
"Communication programmes are valuable for creating awareness of good operational practices and in enhancing the organisation's relationships with stakeholders."
Wright says effective communication is more important than ever, with the rise of social media increasing reputational risks for companies.
"A good reputation takes years to build but it can be destroyed very quickly.  Many CEOs will tell you the company's reputation is its most important asset and protecting it should be a priority."
Research from Colmar Brunton shows corporate reputation is strongly related to sales performance.
Three out of four consumers would buy from companies with a RepZ score of 105 or more, but fewer than half (46 per cent) would consider buying from a company with a weak reputation of 95 and below.
"The top 11 companies in this year's Colmar Brunton Corporate Reputation Index all achieved 'strong' RepZ scores of 105 or more, which would place them in the top 10 per cent of businesses globally," said Farman.
"Corporate reputation is important no matter what industry you operate in, and it has a material effect on your business success."
A feature of the Colmar Brunton Corporate Reputation Index is the particular importance Kiwis place on trust.
The four categories are weighted and trust makes up more than a third (37 per cent) of the overall RepZ score in New Zealand, compared to 16 per cent globally.
This benefited Air New Zealand, which had a "top box" advocacy score (meaning people would speak highly of it without being asked) six times the average across the 50 companies in the index.
Air New Zealand scored 122 on Trust while Toyota recorded 113 and Z Energy 112.
"The Colmar Brunton Corporate Reputation Index shows trust is a priority for consumers when making buying decisions," said Farman.
"Air New Zealand's strong performance in the trust category is a significant factor in its strong overall reputation."
Air New Zealand Chief Executive Officer Christopher Luxon says the airline is thrilled to be recognised as New Zealand's most reputable company for the second year in a row.
"We're incredibly proud of our corporate reputation score which is earned every day by more than 11,000 Air New Zealanders who are dedicated to delivering world class operational performance and customer experiences.  We're thrilled to be rated so highly on the trust index and we place immense value on the faith New Zealanders and customers internationally put in us."
Success is the second most important component of the reputation index, with Apple scoring 122, Air New Zealand 117 and Z Energy 114.
The Fairness pillar of the index reveals companies with a strong value proposition with The Warehouse scoring 117, one more than Toyota, who had an eight point gap on four other companies.
The final section of the index, Responsibility saw Air New Zealand top the section with 112 points with Z Energy and Toyota gaining 107 and 106 respectively.
The survey, conducted from late 2015 to early 2016, featured a nationally representative sample with an average sample size of 500 respondents per industry category.
Colmar Brunton Corporate Reputation Index: Top 20:
---

What is corporate reputation?
Corporate reputation is not something you can manufacture. It's an admirable identity that can be moulded through consistent performance usually over many years.
A reputation develops from a company's sustained identity shaping practices that lead its stakeholders to perceive the company as responsible, fair, successful and trustworthy.
About Wright Communications
Wright Communications is an Auckland-based public relations and strategic communications agency that works with some of New Zealand's most respected organisations.  It was launched in 2006 by Nikki Wright, an award-winning public relations professional and one of this country's leading experts in corporate social responsibility.  Wright Communications is a full-service consultancy offering communications support across the business, local government and charity sectors.
www.wrightcommunications.co.nz
---