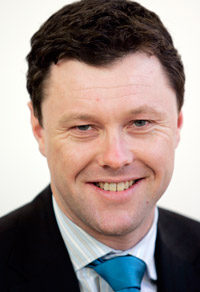 Fairfax Media has appointed Jonathan Milne as Sundays editor. The award-winning news, features and political journalist will oversee the Sunday Star-Times and Sunday News publications for Fairfax.
Milne had worked at Fairfax previously, and Fairfax Media Group executive editor Sinead Boucher says she's delighted to welcome him back to the Sunday Star-Times and Fairfax Media.
"Jonathan's unique style of campaigning journalism, combined with his leadership skills, will add significant value to our Sundays team and portfolio as we continue to provide our audiences with quality content," she said.
"As one of New Zealand's very best journalists and editors, Jonathan brings an enormous amount of talent and passion to our organisation. I look forward to working with him closely," she says.
Milne joins Fairfax from APN, where he was deputy editor of the Herald on Sunday.
He is known in the industry for obtaining and publishing the entire dossier of Wikileaks cables from the US Embassy, breaking the story of John Key and John Banks' controversial cuppagate discussion and leading the coverage of three general elections.
Milne says that after 10 years away, it's an honour to return to Fairfax to edit two of the country's most distinguished Sunday newspapers.
"The editorial teams have brought us some of this country's most important investigative journalism, beautiful writing and stunning design and photography," he said. "The lively fun of the Sunday News, the depth and authority of the Sunday Star-Times, they're a big part of the lives of hundreds of thousands of Kiwis – that's certainly true for me and my family," he says.
"New Zealand audiences and advertisers are tough critics. They always expect more, they always expect better – and rightly so. We're going to continue to deliver that; offering the hardest-hitting news and sport, the most trenchant opinions from respected household names, and some good old-fashioned tips for living well. I want Kiwis to consider these papers as must-buys every single Sunday," adds Milne.
The announcement follows Fairfax Media's success at the recent Canon Media Awards, where the media company took out 27 awards including the Newspaper of the Year (Dominion Post), Best News Website (Stuff.co.nz), Best Community Newspaper (North Shore Times) and Reporter of the Year (Andrea Vance, Fairfax Political Bureau).