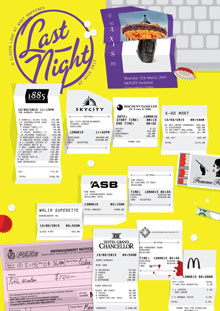 Last night's excitement at the CAANZ Axis Awards may have seemed like a fast-fading memory to many of the participants as they woke this morning – but when they got to work, a surprise awaited them: Last Night, a magazine commemorating the occasion in all its lurid glory, was waiting for them on their desks.
Last Night was produced by the Magazine Publishers Association in partnership with Bauer Media and Metro magazine. Photographers captured the event and an editorial, design and production team back at the office turned the whole thing into a smart 24-page A4 publication.
"It's the power of magazines," said Bauer ceo Paul Dykzeul. "Fast, innovative, entertaining and, we like to think, full of surprises."
Metro editor Simon Wilson said: "You never want to underestimate old media. What better medium than magazines is there for recording an event like that? We've just given everyone in the advertising industry a permanent reminder of the occasion, and something that's a lot of fun to read.
"What's more, because it's a magazine it has the beauty of being something readers can savour whenever and wherever they like.
"Magazines? Gotta love 'em."
The turnaround was fast. Copy and photos in as the night unfolded, the whole package to the printer – Webstar – by midnight, delivery to agencies by 9am.
"We're always excited to work with Webstar," said Dykzeul. "They're reliable and innovative, which printers need to be, and they relish a challenge. They did a great job with this one, just as we knew they would."
Last Night was designed by Metro art director Micheal Hanly, with a cover created specially by the team at Y&R. "We love being neighbours with them at City Works Depot," said Wilson. "They're a clever bunch of very creative people."
For more photos of the night and Metro's picks for best dressed, go here: www.metromag.co.nz.
---