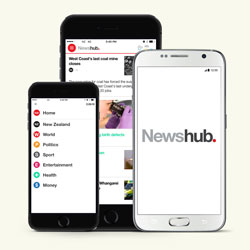 MediaWorks has released a Newshub app to enable viewers to navigate around its re-fashioned news service – launched yesterday – which brings all of the company's news brands (TV, radio, online) together in one stream.
"Getting news on the move will be smarter, faster and easier with the launch of MediaWorks' new Newshub app today," says head of digital news Jono Hutchison.
"Whether you want news at a glance – or a deeper look behind the day's headlines, the free Newshub app delivers the news you want in the way you want it."
The app provides the latest news stories, up-to-the-minute coverage, breaking news alerts and high-quality videos, all within a smart and concise newsfeed.
Live streaming of TV3's news programmes is available, as are key stories from each show: Paul Henry in the morning, Newshub Midday, Newshub Live at 6pm and Newshub Late in the evening.
On the homepage, a News at a Glance section highlights the major stories, while a dedicated weather section can be localised for any region.
"We know there are interesting and important things happening in the world but all too often they're buried in an avalanche of articles," Hutchison said. "Our Newshub app does a beautiful job of telling you what's going on right now. You can quickly catch up with our curated News at a Glance section, but you can also follow through to get more detail on the topics that matter to you.
"It's a great way to keep up with the news and it's designed to make the most of the mobile format. It looks and feels great."
As stories develop, articles are continually updated and can be shared via social media channels, such as Facebook, Twitter or email.
MediaWorks is New Zealand's largest independent broadcaster, reaching 3.8 million Kiwis through its TV, Radio and Digital platforms.   The company owns and operates television channels TV3, FOUR and The Edge TV; radio brands The Edge, The Rock, More FM, The Breeze, The Sound, Mai FM, George FM, Magic, and RadioLIVE; a network of websites including 3news.co.nz and 3NOW, and a family of mobile and tablet apps.  MediaWorks' entertainment and news brands and people are household names, with loyal, highly engaged audiences. www.mediaworks.co.nz
---