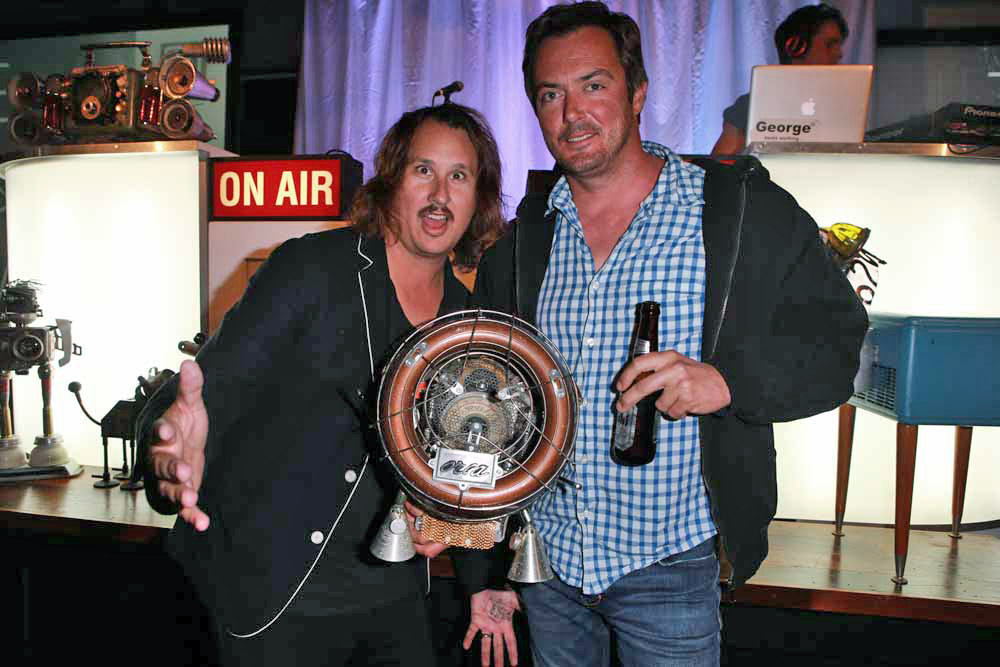 FCB's Kelly Lovelock & Hywel James took out the 2014 Grande Orca for the best radio ad in 12 months.
"We're fuckin' blown away," Lovelock said, accepting the award on stage last evening at the Nathan Club in the Britomart. "This is the best prize in advertising – and the competition this year was very, very tough."
Lovelock & James walked away with the Grande ORCA trophy (by artist Martin Horspool), a $50,000 (ratecard) radio campaign for their client Gregg's, and two trips to the Cannes Lions in June, all courtesy of The Radio Bureau.
This is the second Grande Orca in a row for the FCB creatives – they also won in 2013 for Prime TV Call Girl, a campaign that also won on the world stage (including three Gold Cannes Lions, a Gold Axis, and a D&AD Yellow Pencil).
After the short, sharp presentation, slickly conducted by Hauraki afternoons host Alex Behan, the crowd of around 100 were treated to live performances by six Kiwi acts (Villainy, Benny Tipene, Lizzie Marvelly, Jeremy Redmore, and Doprah, with DJ MANCHOO).
Before the presentation, George FM host Dean Campbell also kept it Kiwi, spinning exclusively NZ music.
The presentation itself featured all the finalist spots, judged with venomous humour by three 'Experts' – Guy Williams ( The Edge drive show), Bryce Casey (The Rock breakfast), and Dave Fane (flava).
At press time, the videos were still being post-produced, but we got our hands on one:
M+AD will post the rest next week.
The Orca judges were: James Mok, Toby Talbot, Karl Fleet, Angus Hennah, Josh Lancaster, and Jamie Hitchcock
The finalists
AS Colour Buy Blank, Freddie Coltart & Matt Williams, FCB
Gregg's Jelly-less Party, Kelly Lovelock & Hywel James, FCB
NZTA GPS vs Girlfriend, Simon Wharton & James Burton, Clemenger BBDO
Brothers in Arms Inside Voice, Freddie Coltart & Matt Williams, FCB
Tip Top Memphis Meltdown Sad Merman, Simon Vicars & Brett Colliver , Colenso BBDO
Colgate Colgate Plax A Meeting, Tom Paine & Carlos Savage, Y&R
The winners
Grande ORCA: Kelly Lovelock & Hywel James (for Gregg's Jelly-less Party)
People's Choice award: Simon Vicars and Brett Colliver