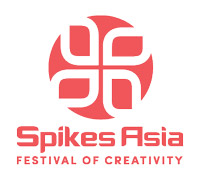 The Spikes Asia Festival of Creativity 2014 is now open for entries across 18 categories.
Reflecting the growth of the industry in Asia Pacific, this year sees the introduction of two new entry categories – the Innovation Category will award breakthrough technology and innovation, and the Healthcare Category will celebrate brave and innovative communications ideas within the health, wellness and pharmaceutical sectors.
Emad Tahtouh, Director of Applied Technology of Finch Australia, and June Laffey, Executive Creative Director of McCann Health Australia, are the first names to make up this year's dedicated collection of jury presidents and will head up the inaugural Innovation and Healthcare categories.
Tahtouh started his career as a Network Engineer, and moved into production following his passion for the way technology changes storytelling. He's gone on to develop and curate a range of technology solutions for multi-award winning campaigns.
His most notable work includes his 2012 Gold Lions for Pedigree Donation Glasses and The Great Crusade; and The Most Powerful Arm, a petition-signing robot he built to raise awareness for Duchenne Muscular Dystrophy, won Digital Gold at Spikes Asia and Gold at the IAB MIXX Awards in 2013. More recently, Emad and his team brought a robot orchestra to life for Intel's Intelligent Sounds campaign with award-winning recording artist, Flume.
His current project for the Royal Automobile Club of Western Australia saw him build an attention-powered car that goes when you're paying attention and slows when you're not. The campaign has already been honoured at Adfest, AWARD and at One Show for Intellectual Property.
About his role as jury president Emad says, "Innovation and technology are quickly becoming a necessity in our industry. Helping to shape and define the standard we choose to judge the best pieces of work with is a tremendous challenge, and I'm excited and honoured to be a part of it.
June Laffey will preside over the Healthcare Category. Since joining in 2010, she has helped McCann Health Sydney become recognised as APACs most awarded healthcare agency, according to the release.
Writer based, she began her career in mainstream advertising.  At the start of the new millennium, following her desire to make a difference to people's lives, June decided to move into healthcare communications. She is excited about technological advances that are positively impacting health, the growing focus on the person not the patient, and the increasing quality of healthcare communications. June and her team have received a range of accolades, across numerous clients and channels, including the Global awards, Clio Health, One Show, IPA best of health awards, Campaign agency of the year, and Spikes.  She has judged at most of the international health awards shows, namely the Globals, Clio Health, IPA best of health and Rx.
Commenting on her appointment, she says, "The fact that Spikes Asia is extending into the healthcare industry is both important and exciting. Innovative, creative, game-changing solutions in the health/pharma space don't just have the potential to win in a world-class festival such as Spikes, they have the ability to change and save lives. So a credible awards competition such as Spikes that encourages and recognises creativity in this area can only be a good thing."
Terry Savage, CEO of Lions Festivals says, "We are delighted to be able to announce jury presidents of such high calibre in line with Spikes Asia opening for entries. It is fantastic that the first ever Innovation and Healthcare categories will be judged by such formidable professionals as Emad and June."
Judged by top regional experts, the award categories available to enter are:
Branded Content & Entertainment
Creative Effectiveness
Design
Digital
Direct
Film
Film Craft
Healthcare
Innovation
Integrated
Media
Mobile
Outdoor
PR
Print
Print & Poster Craft
Promo & Activation
Radio
Winners of this year's awards will be revealed and honoured at the annual awards ceremony in Singapore on Friday 26 September.
All of the shortlisted work will be on display through exhibitions and screenings throughout the Festival offering attendees the chance to get an up-to-date view of the region's creative output.
Anyone wishing to enter the awards can find further information on how to submit, along with rules and fees at www.spikes.asia. The deadline is Friday 25 July.
About the Spikes
Building on 27 years of the illustrious Spikes Awards, the Spikes Asia Festival of Creativity is the result of a collaboration between the Lions Festivals, organisers of Cannes Lions, Lions Health, Dubai Lynx and Eurobest, and Haymarket, publishers of Campaign Asia Pacific. The Festival provides the region's growing creative and advertising industry with a platform to network and exchange ideas, bringing together some of the finest creative thinkers from across the region and around the world.
Spikes Asia, attended by over 1,800 delegates from 30 countries in 2013, offers an inspirational programme of seminars and workshops focusing on creativity and learning, exhibitions of creative work from Asia-Pacific, networking events in the evening and the Spikes Asia award show.
Key 2014 Dates
Delegate Registration: open
Entries Open: 15 May 2014
Delegate Early Bird Deadline:  17 July 2014
Entries Deadline: 25 July 2014
Spikes Asia Festival Dates: 23 – 26 September 2014, Suntec, Singapore
Contact
Amanda Benfell, Head of PR & Press
Spikes Asia Festival of Creativity
33 Kingsway, London WC2B 6UF, United Kingdom Tel: +44-20-3033 4000
amandab@lionsfestivals.com Tel: +44-20-3033 4000
***