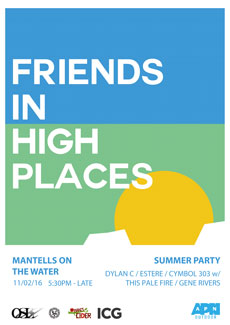 APN Outdoor has announced the return of its popular Friends in High Places Summer Party. The 2016 event will held on Thursday 11 February at premier summer venue Mantells on the Water at Westhaven Marina
Festivities will kick off at 5.30pm and go until late and, as with past FIHP events, the line-up of musical talent features some of the best in local names, including Estere, Cymbol 303 with This Pale Fire, Dylan C and Gene Rivers.
Emcee for the night will be Jordan Vandermade, and of course there will be tasty refreshments care of Lion & Stoneyridge.
"Friends in High Places Summer Party provides a great opportunity to host our clients, partners and friends and say thank you for their support in 2015," says APNO general manager Phil Clemas. ".We are so excited for this year's event and anticipate another great night."
For those new to the FIHP franchise, or wishing to reminisce on the fun they had in 2014, you can check out the 2014 highlights video here: http://goo.gl/QIA7qR.
---