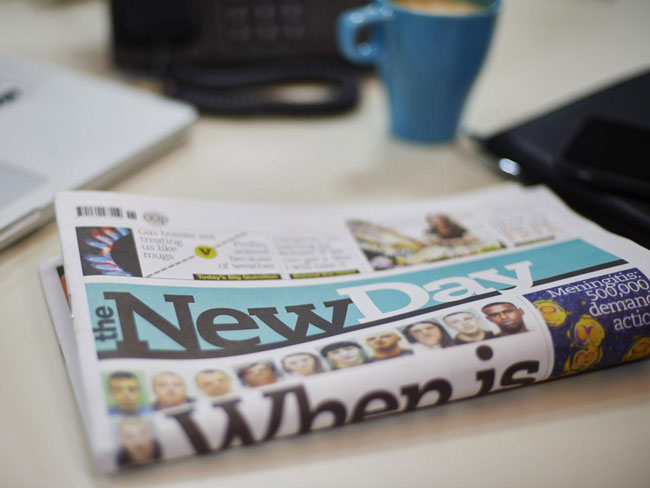 UK publisher Trinity Mirror is backing old-fashioned newsprint as it launches the UK's first new standalone national newspaper – The New Day – in the last 30 years.
"This paper has been created as a result of customer insight and is the first newspaper designed for people's modern lifestyles," editor Alison Phillips told UK ad site Warc.
The new paper aims to occupy a limited amount of a reader's time while understanding the role of breaking digital news.
"There are many people who aren't currently buying a newspaper," she says, "not because they have fallen out of love with newspapers as a format, but because what is currently available on the newsstand is not meeting their needs."
What they want, according to Trinity Mirror's analysis, after spending more than a year talking to thousands of readers, is something that will supply "a ruthless edit of the day, with balanced analysis, opinion and comment, but no political line".
The new title is being pitched at 35-55 year olds "who want a more modern approach to news".
Next Monday's launch edition will be free, with the 40-page paper priced at just 25p (NZ 53 cents) for the following two weeks, and 50p thereafter.
There will be no website although a spokesman told Warc people would be able to "interact with the publication through Facebook and Twitter".
The print run for the free launch edition is understood to be 2 million, with subsequent print runs yet to be decided.
Mediacom UK ceo Josh Krichefski observed that the launch was "a brave move … but it is not foolhardy".
"Millions of people still buy and enjoy the print experience," he told The Drum, "and to have a new title specifically created as a companion for digital, developed entirely from consumer insight, provides a really interesting context that should prompt advertiser reappraisal of the medium."
The launch comes soon after The Independent, the last standalone national daily to launch – in 1986 – announced it would cease print operations and become digital only.
Trinity Mirror plc is the largest British newspaper, magazine and digital publisher, and Britain's biggest newspaper group, publishing 240 regional papers as well as the national Daily Mirror, Sunday Mirror and People, and the Scottish Sunday Mail and Daily Record.
The company is listed on the London Stock Exchange, and is a constituent of the FTSE.
Data sourced from Guardian, Print Week, The Drum; additional content by Warc staff
---