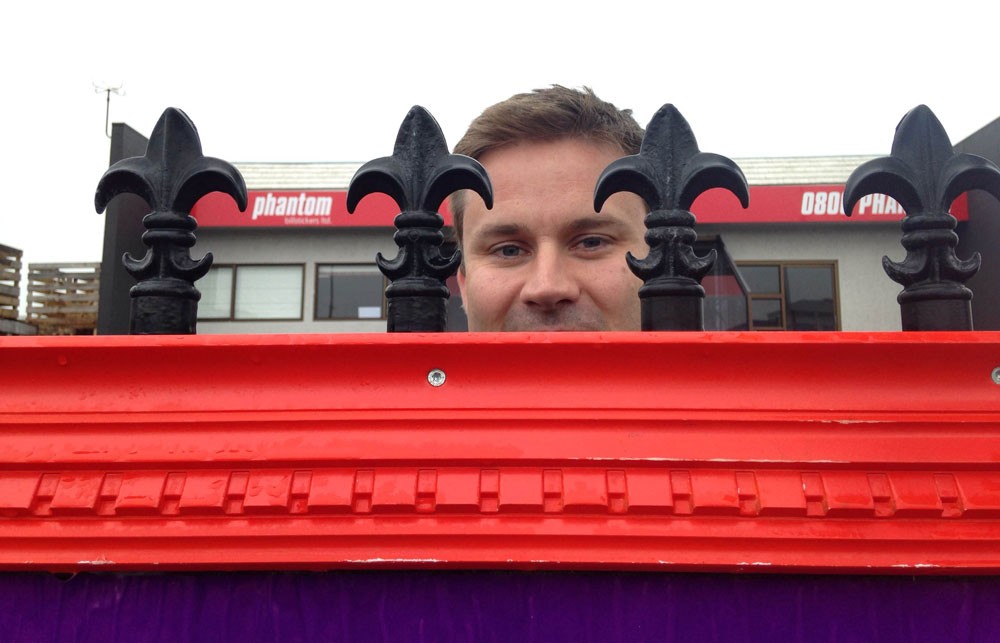 ---
Phantom Billstickers began life as pure rock'n'roll. These guys recall the days when hiding from cops, and pasting rock band handbills directly over existing poster ads, was par for the course. Nowadays, things could not be more different. Phantom has become a significant media brand. The band posters are still there – but Phantom clients today include corporates and ad agencies.
Phantom sales manager Dan Collins talks to M+AD about the Supercity, social media, OMANZ, and caviar …
What do you do in your job?
I'm the sales manager, and to boil it down, my core role is to oversee the sales team, and make sure we're all heading in the same direction and with a clear game plan in mind.
Directing traffic, making plays, and ensuring we have the right resources on hand to rock the party that rocks the party are also important, as well as keeping an ear to the ground and an eye on the horizon.
When did you personally become involved with the poster business?
I first became involved as a customer many moons ago playing in bands in Christchurch. I thought Phantom were pretty cool to deal with and they did what they said they'd do.
Not long after that I got a part time job as a pastie; it seemed like a good sort of a job and I had a friend who was working there at the time too, which helped. I started at 5am each day, rain or shine.
During winter I'd scrape ice of the site so I could put posters up, and I recall working in 10 hours of torrential rain on many occasions.
Good honest work that!
Was it a bit of a cowboy business back then?
Not so much actually; it was about 14 years ago for me now, and by then Jim Wilson [Phantom founder] had already professionalised something that started as amateur, with leased and council-approved sites and bollards throughout the country.
"So the flour and water days and hiding from cops had passed by the time I got in the game – but much respect to those who have gone before me, or anyone who's ever stuck up a poster to get their message out there.
Posters are for the people.
What's changed today?
The ethos is still much the same, but we've gotten a whole lot better at what we do & how we present our media. We have a tonne of new and fantastically good street poster sites across the country, many of which have our great art frames.
We're more targeted with our placement, and we offer insightful data and stats for each of our sites featuring your posters; we run a weekly & nationwide street press called The FOLD; we have our own custom-built flyer racks in thousands of cafes and retail outlets across the nation; we've become more creative with custom and specialist installs, such as the recent Becks playable poster campaign; and a whole lot more to boot …
We even run a few billboards in some top strategic locations.
So what's changed? Everything and nothing really, and our clients get an even better job with each passing day as we continue to develop.
Occasionally we've come up against a perception that street posters are a fly-by-night and flour-and-water type operation on lampposts, and therefore not seen as a safe option, although that's very few and far between these days.
Most people who live under a rock tend to stay there …
Who are Phantom's audience?
It's hugely varied. Here are but a few clients that we're running posters for in this week alone: V05, Stuff.co.nz, Auckland Zinefest, Cassette 9, Frucor, Auckland Museum, Auckland Art Gallery, George FM, P Money, Lion Hopt, General Election Enrollment, Royal NZ Ballet & Paul Simon & Sting.
Variety is the spice of life!
Does Phantom belong to OMANZ?
No, we're not a part of OMANZ; apparently we don't fit in with their criteria to join. We've been strong going for 32 years now, so it's certainly not held us back in any way.
Do you get many requests for posters from fans?
Fairly often, mainly for big touring acts like Rolling Stones, Tool etc.
How many vehicles and people in Phantom? How many cities?
We have offices in the five main mets and we cover 16 centres across the nation.  We have 60 staff and 30 vehicles going out 365 to keep the streets alive with flora for the concrete jungle!
Are Social Media and Posters natural cousins?
Yeah, that's how I see it. Both trying to do the same thing, but in different ways. The poster would certainly be the older cousin.
Your biggest mistakes?
Selling my beloved Vox AC30 guitar amplifier, saying things I didn't really mean to girlfriends, and thinking that QR Codes might work well in NZ.
Successes?
Being a part of a team that's changed this country for the better and given people and businesses a direct line to people at a street level.
How is Phantom's relationship with local bodies – in particular Auckland Council?
Our relationship with Auckland Council is the best it's ever been. We went through a lengthy bylaw review process back in 2009 that has given AC the tools to approve our sites on the isthmus and they've started to acknowledge our place in the cityscape with some great results.
The super city structure can be daunting at times as it seems the stakeholders have quadrupled within council and it's CCOs, but everyone seems to have found their feet now and we're starting to see the light for the red tape.'
How do you view your competition in the outdoor market?
Boring. Phantom is caviar, the rest is canned tuna.
---