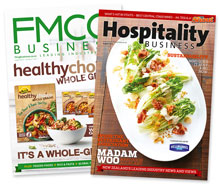 Auckland-based The Intermedia Group has launched digital versions of its print titles FMCG Business and Hospitality.
"This exciting new development is a first for these industries in New Zealand and opens up significant opportunities for advertisers and editorial alike," said NZ managing director Dale Spencer this morning.
The two market-leading print magazines "have gone from strength to strength" and will continue to be distributed every month. Spencer says the websites will provide up-to-date industry information every week as well as weekly e-newsletters which are now delivered to the largest online databases in hospitality or FMCG in the country.
"Inclusion of digital magazines in the publishing mix now gives us four integrated ways to talk to our primary audiences every month, which is not only a first for these categories, but more importantly will deliver new readership for the titles," Spencer said.
"Experience from The Intermedia Group has shown we can deliver 10% more readership per month for our advertisers through the digital magazines.  It continues to grow every month.
"We are taking the best technology and learnings from around the world and bringing them to New Zealand."
Boutique drinks festival comes to NZ
The Intermedia Group also recently announced Australia's biggest trade liquor event will be coming to Auckland from Sunday June next year to Tuesday 28 June as a partner of Fine Food New Zealand.
Top Shelf is a trade festival dedicated to wine, beer, premium spirits and craft drinks and will combine some of the best local and international brands, fun, education, sampling and a great line-up of guest speakers to bring the world of fine drink to life.
Fine Food New Zealand has a strong foodservice heritage in New Zealand and is the country's largest hospitality and retail event with over 6400 attendees in 2014.
Top Shelf national sales manager Joel Bremner said: "Fine Food New Zealand provides us with an incredibly successful vehicle to bring Top Shelf to life. With our Hospitality Business and FMCG Business magazines already leading the market in their sectors, it seems an obvious step to partner with North Port Events and support the Kiwi liquor industry with Top Shelf."
With a massive 400 square metres within Fine Food New Zealand, Top Shelf offers over 25 stands dedicated to the local liquor sector to present their products to the foodservice and hospitality trade.
"We'll also have a seated presentation area which will include masterclasses, product launches and mixology challenges," Bremner says. "We hope to have a lot of fun with this and look forward to the local liquor guys getting in behind it.
"With at least 6400 attendees guaranteed, liquor marketers are being offered a unique opportunity with Top Shelf to talk to the whole Kiwi industry in one place."
Stands and presentation packages are available as of 3 August 2015, be quick as opportunities are limited.
---