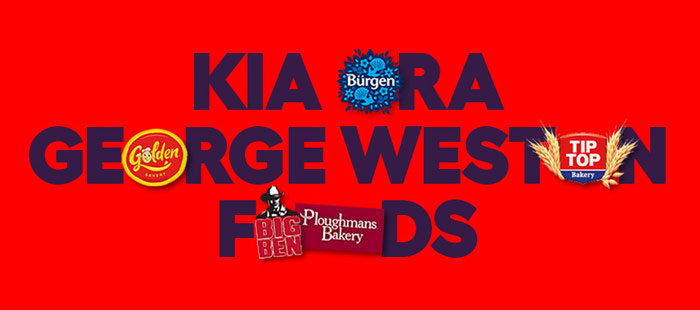 AUCKLAND, Wednesday: George Weston Foods Baking has appointed Proximity NZ and BrandWorld as their creative agencies after a competitive pitch.
There was no incumbent. GWF previously worked with different agencies on a project basis. The aim of the pitch to consolidate into one agency.
Proximity and BrandWorld are part of the wider Proximity Network offering that includes Raydar (shopper and activation), Perceptive, (data and customer intelligence) and Sapien (human behaviour research agency).
GWF is New Zealand's second largest bakery, and its brands include category leader Tip Top, Ploughmans, Bürgen, Golden and Big Ben Pies.
George Weston marketing/innovation GM Victoria McCrea said: "We're excited to be working with the Proximity and BrandWorld team who brought smart strategic thinking, engaging creative ideas and energy throughout the pitch process."
Proximity Network ceo Chris Pescott said: "We're feel privileged to work with George Weston Foods. They've been working with BrandWorld for a couple of years now, and this was an opportunity to demonstrate the full capability of the Proximity Network to power GWF and its brands."
---
"The account move is effective immediately."
---
BrandWorld GM Rachael Weaver said: "We have produced some successful work with the GWF brands for the last three years and now it's brilliant to be working with the Proximity team to take this to the next level.
"We've already started building an integrated partnership with GWF agencies, OMD, Fuse and FiftyFive5."
Proximity CCO James Mok said: "The team at GWF recognise the importance of sharp strategy and distinctive creative to drive their brands. Grocery is intensely competitive, so we love their ambition and the way they encourage us to challenge them. And meetings are always delicious."
The account move is effective immediately
About George Weston Foods
George Weston Foods Baking NZ makes some of New Zealand's favourite products, living their core purpose of 'Creating everyday moments of goodness'. www.gwfbaking.co.nz
About Proximity NZ
Proximity NZ is a multi-disciplined creative services agency utilising data and intelligence to create connected creative solutions that builds brands, improves customer relationships and finds the growth that's hard to find. www.proximity.co.nz
About BrandWorld
BrandWorld has been creating successful tactical marketing campaigns, content and platforms for over 20 years. Proprietary platforms include Family Health Diary, Whanau Health Diary, Choose Well, and Our Back Yard. www.brandworld.co.nz
---