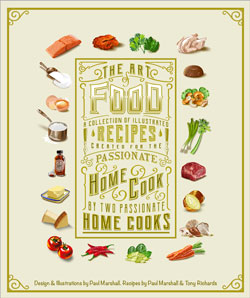 AUCKLAND, Today: Local adman and director of mediaR Tony Richards, and expat art director & illustrator Paul Marshall, have collaborated on an unusual cookbook – featuring recipe illustrations, rather than photographs.
The Art Of Food, says Richards, was concepted and designed for passionate home cooks – by two passionate home cooks –and the tried-and true-recipes, are simple and easy to prepare.
With over 60 recipes covering starters, mains and desserts, The Art of Food has recipes from New Zealand and around the world – from Indonesian comes chicken thighs braised in a spicy lemon grass and coconut broth, Italian braised beef in red wine sauce to good old-fashioned fish'n'chips (with a twist) and Louise cake.
"This simple, yet stylishly cool cookbook, is one you'll use again and again," says Richards. "It comes on the back of 12 months of planning, recipe development, content refinement, and endless production tweaks – when you're the client, it's never quite right and you tend to revisit it and revisit it."
---
"He won a gold medal for food illustration at the 1991 New York Advertising Awards."
---
Paul Marshall first started cooking at the age of 11, watching his mother cater for elaborate home parties. He refined his skills over the years, while working as an artist/designer, then art director. In 1981 he got a job at Maggies Farm as a dishwasher, then worked up to sous chef, then went back to advertising.
He won a gold medal for food illustration at the 1991 New York Advertising Awards. He has lived in Indonesia for the past 25 years.
Tony Richards's passion for food also developed at an early age, with a mother who was inventive and intuitive. He cut his teeth in the kitchen at Antoines, and years later he was involved in the opening of Melba. Post-Melba he worked in the kitchen at the French Café.
In between his cooking stints, he worked as a freelancer, and an art director at Colenso, MDA McKay King, DMB&B. For the last 15 years has been a director/shareholder at mediaR.
Have I got a deal for you!
The Art of Food officially hits all good bookstores this Saturday 11 November with an RRP of $35.
"But," says Richards, "if you can't find it, I can do you a great deal – just contact me at tony.richards@mediar.co.nz
---