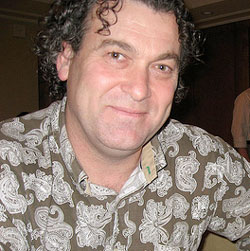 Kiwi animation legend Brent Chambers, the founder of Flux Animation, died in Auckland at the weekend after suffering a sudden heart attack. He was just 54.
Chambers founded Flux in 1997 in partnership with his wife Sue, produced and directed hundreds of TV programmes, films and television commercials and was a mentor and friend to a host of people in the sector – all now expressing sadness and shock.
His funeral will be held on Friday at 2pm at St Mary's Catholic Church, 117 Onewa Road, Northcote.
"We lost one of the industry's really good guys on the weekend," said Film Construction director Perry Bradley. "There will be an army of people who have been helped along their animation careers by Brent."
The death notice in the Herald: "Brent will be forever remembered as a generous, kind, talented and devoted family man. We have been robbed of him far too soon but his memory will live on through all those that knew him.
"Brent leaves behind his wife Sue Chambers, mother Gillian and is survived by his children Tom, Jess and Max. His significant contribution to New Zealand's animation and advertising community pale in comparison to the impact he had on the lives of those who loved him."
Brent Chambers originally trained as an actor. "But they say animators are actors who don't have the nerve to get in front of the camera, so here I am," he once said.
Kelly Lucas of NZ film site Screenz said Chambers and Flux made almost 20 original shows for TVNZ, most recently animated shows Little Monstar and Wiki the Kiwi, the latter created with former school-friend Stephen Maire, and the animated elements of Tiki Tour.
Flux animated Leanne Pooley's 25 April, which premiered in Toronto last year. On its release here Chambers called the production a huge opportunity for Flux Animation. "Such is the nature of the New Zealand industry we do a lot of preschool shows. This lifts us up into a new category."
Early in his career Chambers trained with former Disney animator John Ewing, who'd moved to NZ. Chambers took over Freelance Animators when Ewing retired. Two years later Chambers and his wife Sue founded Flux, which Chambers grew into the country's longest-running animation studio.
The first NZ TV show the company made was Tamatoa the Brave Warrior, followed by several others including The Adventures of Massey Ferguson, Buzzy Bee and Staines Down Drains.
Chambers continued to seek international work as he had when working with Ewing, and contributed work to a number of successful film, TV and advertising productions. One of the highest profile titles was Davis Guggenheim's Oscar-winning doco An Inconvenient Truth.
"Many of our staff have known Brent for a long time and had considerable interaction with him," said NZFC ceo Dave Gibson. "He was a passionate advocate for the animation sector and his company has produced a wide range of commercial, television and short film animation."
Big bro chimes in
Brent Chambers' older brother Shale wrote (in the Herald death notice): "Husband, father, funny man, man of many achievements – I was immensely proud to call him my brother. We are devastated."
Flux is now New Zealand's longest-running and most successful producer of original animated content. It has produced 11 of its own series for TVNZ, five of which have gone international.
The company's many notable commercials includes work for Telstra, 2Degrees, Chesdale, NZ Dairy, Telecom, KFC, Lotto (Count Me In was an Axis winner), Westpac, and several electoral campaigns.
---