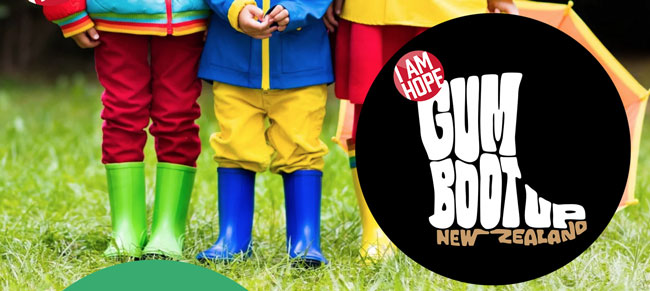 AUCKLAND, Today: Fuse & OMD helped Kiwibank bring the nation's attention to the mental health issues facing the country, and claim they are changing the Facebook landscape with their I Am Hope campaign which supported New Zealander of the Year Mike King's 'Gumboot Friday' event. 
Kiwibank head of brand & marketing Simon Hofmann said: "The initiative aligned with some internal work we were doing to have open conversations and the goals of Mike and Gumboot Friday were clearly aligned with the Kiwibank purpose.
"It was very much tackling a topic that doesn't get enough focus and getting support to those that need it, when they need it – especially the young Kiwis who are the future of our country.
"Working with partners Fuse and OMD, a challenge went out to Kiwis asking them to add the custom frame on their profile photo, and Kiwibank would donate $1. The original target was to hit 20,000 but after such an overwhelming response Kiwibank upped the donation to $50,000 then doubled that to $100,000. 
---
"This was the first work under the expanded Kiwibank-OMD partnership that was implemented in 2018."
---
"It became very clear this is a cause Kiwis care about and it's rare that you find an opportunity to start a national conversation while also contributing much needed funds so we wanted to keep that momentum moving," Hoffman said.
"In the end we had well over 500,000 profiles saying I Am Hope to fellow Kiwis, and in doing so that statement becoming part of the nation's consciousness and provided an amazing launch platform for Gumboot Friday.
Fuse MD Gina McKinnon said: "Kiwibank has been a courageous client. We challenged them to push the boundaries both in talking about mental health and supporting the cause in a meaningful way. They stepped up and it takes guts and commitment to do that."
Hoffman: "Kiwibank is passionate about helping making Kiwis be better off and is continuing to build on the platform to bring this conversation to the forefront and encourage everyone to get involved in Gumboot Friday on 5th April.
"This was the first piece of work under the expanded Kiwibank and OMD Group New Zealand partnership that was implemented at the end of 2018."

CREDITS
Client: Kiwibank
Head of Brand and Marketing: Simon Hofmann
Brand and Partnerships Lead: Kim Waghorn
Brand Manager, Social Media: Simon Flanagan
Agency: Fuse
Managing Director: Gina Mckinnon
Head of Experience: David Lister
Senior Social Director: Vikesh Patel
Creative Director: Gina Kindred
Social Account Manager: Hannah Roberts
Media: OMD
Head of Strategy: Nick Ascough
Account Director: Mikaila Hutchinson
Account Manager: Kaitlin Mitchell
Digital Account Manager: Sharlene Shivaz
---