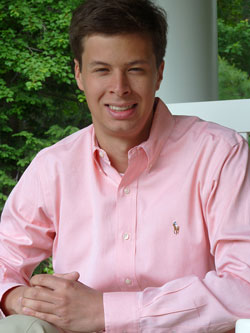 Gamer Sensei – a Boston-based company formed by three passionate gamers, including US-born NZ citizen William Collis – has launched the industry's first mastery platform for competitive gamers who want to win more.
The online project is backed by US$2.3 million in seed funding from lead investors Accomplice and Boston Seed Capital, with participation by Sigma Prime, FJ Labs, Corigin Ventures and Timothy & Todd McSweeney.
Collis's mother is a Kiwi – married to a senior Harvard academic – who's made her home in Boston. The family are regular visitors to NZ, and William Collis wears his Kiwi heritage proudly.
William Collis has been a lifelong eSports fan. He attended Amherst College ('07) and Harvard Business School (2011), building his career in strategy and marketing across the Boston Consulting Group, the Institute for Strategic Leadership, and Hasbro.
He says he grew up playing almost every game he could get his hands on, but his favourites are Final Fantasy Tactics and Heroes of the Storm.
Multi-billion-dollar sector
Gamer Sensei provides personalised coaching and skills development for major eSports titles to help all gamers reach their next level. The company also announced an exclusive long-term coaching and curricula partnership with NRG eSports and an exclusive partnership with StrifeCro from Cloud9.
The funds will be used to grow the Gamer Sensei team, accelerate development of the patent-pending mastery algorithm, expand to additional games, increase partnerships with the world's best Sensei and eSports teams and establish an industry standard system for credentialling Sensei and improving players.
"eSports is a multi-billion dollar industry worldwide and both new and experienced players will always look for that extra edge to best their competition," said Peter Blacklow, partner at Boston Seed Capital.
"Gamer Sensei's unique ability to match competitive gamers with the industry's largest collection of certified Sensei is already resulting in huge improvements, and we see great potential for the company as its legion of fans grows," remarked Ryan Moore, partner at Accomplice.
Gamer Sensei invented an algorithm to match competitive gamers with the world's largest collection of certified Sensei across all major eSports titles. "On a one-on-one basis, Sensei help competitive gamers overcome individual challenges in their games of choice, leading them to win more," Collis said.
Pokémon GO next
Once matched with a top Sensei, gamers receive personalised in-game coaching, resulting in measurable improvements. Gamer Sensei currently offers personalised coaching and skills development for Hearthstone, Overwatch, League of Legends, DOTA2, Heroes of the Storm and StarCraft II. Coming soon is Pokémon GO as well as CS:GO and World of Tanks.
"As we look to Gamer Sensei's future, we have a grander vision and plan in the works – beyond adding new and trending eSports titles," Collis says. "Gamer Sensei will become the integrated solution to help gamers, of all skill levels, to win more. We'll soon offer new ways for gamers to interact with their Sensei, as well as a content-based curriculum platform.
"We have also signed a slate of unannounced partnerships, including major teams and technology platforms to further augment Gamer Sensei's growth.
"Ultimately, we see Gamer Sensei as the one-stop destination for everyone to master their favourite games."
Gamer Sensei started because co-founders William Collis, Rohan Gopaldas and Jiapeng Ji were frustrated by the lack of options to improve at Hearthstone.
Despite watching streams and reading forums, the trio struggled without a personalised and highly skilled service to provide expert feedback. They also hated playing for hours at a time without learning anything new, or wasting a night of gaming by racking up a string of losses.
"We created Gamer Sensei to provide an efficient, clear and personalised path to eSports improvement," Collis said.
"I just wanted to get better," says Gopaldas, "but instead, I found myself wasting countless hours losing, without understanding why. I felt like I was learning piano by banging on the keys."
Collis: "Every gamer knows what it's like to hit a wall and feel like they have no easy and effective path to improvement. For aspiring pros looking to break into the top tiers of competition as well as average gamers looking to win more, Gamer Sensei provides personalised, reliable and friendly coaching and skills instruction."
Over time, Gamer Sensei plans to add on-demand training and personalised assessments that take into account a gamer's previous skills development and learning style to allow them to efficiently transition skills from one title to another.
All major eSports titles
Additionally, Gamer Sensei will be developing the industry's most comprehensive set of personalised curricula for all major eSports titles, as its partnerships with NRG eSports and StrifeCro from Cloud9 illustrate.
"There are countless claims and services offered to competitive gamers but few tools that are grounded in numbers and metrics to determine effectiveness," said Andy Miller, co-owner of NRG eSports.
"NRG eSports is pleased to partner with Gamer Sensei to offer our coaches, players and analysts to their elite stable of Sensei and develop customisable curricula we intend to establish as the industry's standard."
---