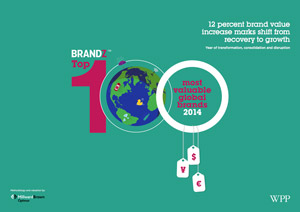 The recent BrandZ global report is packed full of valuable insights for Kiwi brands, especially if they want to compete and grow internationally, writes Colmar Brunton CEO Jacqueline Ireland.
"Google knocking off Apple as the world's most valuable brand headlined coverage of the recent Millward Brown BrandZ report," Ireland says. "But move beyond the bragging rights of these two super heavyweights and there is a wealth of information in the report to help Kiwi companies grow their brands.
"What's more, the trends give insights into what the world is looking for from a brand both now and in the future – critical information for New Zealand businesses looking to compete in offshore markets and grow our exports."
BrandZ uses the views of current and potential buyers of a brand, together with financial data to work out a brand's value.
It measures the world's most valuable brands across a range of categories but it is the following 13 cross-category trends – the key forces impacting brands – that send the clearest and most salient signals to local brands wanting to make their mark.
---