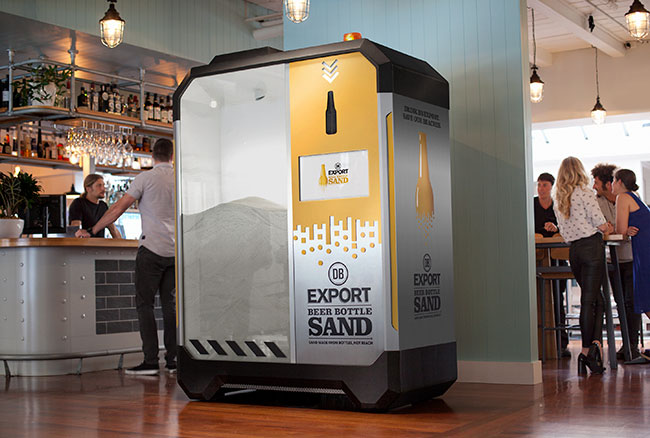 LONDON, Today: PHD New Zealand and Spark PR & Activate have stamped their mark on the M&M Global Awards in the UK, taking home two Gold awards and a Grand Prix for PR Agency Network of the Year.
Spark PR & Activate's latest global title comes on the heels of a good year. The agency won Campaign of the Year, Gold for Best Event/Experiential and a Grand Prix award at the Festival of Media APAC for DB Beer Bottle Sand, as well as an Impact Award at Festival of Media Global. It was also highly commended for Global PR Breakthrough (DB Beer Bottle Sand) at the 2018 PR Week Global Awards.
Spark PR & Activate managing director Dallas Gurney said: "Two global agency awards in one year is unprecedented in the history of Spark PR & Activate. This is a true acknowledgement that the quality of work we're producing in New Zealand is world-class.
"We love working alongside our fantastic clients who trust and allow us to challenge the norm, and agency partners, in this case the talented team at Colenso BBDO, who are such creative storytellers."
DB Export Beer Bottle Sand picked up a Gold in the Food & Beverages category. The campaign's latest victory comes after 13 accolades at regional and global ceremonies such as Spikes Asia, Festival of Media Asia, Festival of Media Global and the local Beacons this year.
---
"We love working alongside our fantastic clients, and the talented team at Colenso, who are such creative storytellers."
---
PHD NZ also took home Gold for the Spark Santaline: One Phone Call, Two Magical Christmases campaign in the Technology & Telecommunications category. That campaign saw Spark recruit a team of 'elderly elves' from Metlifecare retirement villages to help man the Santaline phones for the first time during the festive rush.
The campaign encouraged Kiwi kids to continue the 24-year-long tradition of calling in with their Christmas wish list, increasing the calls by 27% in the pre-Christmas period.
Speaking on the wins, PHD NZ ceo Louise Bond said: "We are delighted that our work for both Spark and DB Breweries has been recognised on an international level. It has been a hugely successful year for both PHD and Spark PR & Activate and that is thanks to our passionate and talented team and clients."
About PHD
PHD is known globally as an innovator in communications planning and buying across broadcast, print, digital, mobile, social and emerging media, reflected in the network ranking 2nd most awarded network in the world, according to the Gunn Media 100 report – a benchmark of the most creatively awarded agencies and networks. PHD New Zealand was also named the Communications Council Media Agency of the Year 2018. PHD has over 6000 staff working in over 90 offices worldwide, having been founded in London in 1990. The PHD network is part of the Omnicom Media Group.
About Omnicom Media Group
OMG is the media services division of Omnicom Group, Inc. a leading global advertising, marketing and corporate communications company. Omnicom's branded networks and numerous specialty firms provide advertising, strategic media planning and buying, direct and promotional marketing, public relations and other specialty communications services to over 5000 clients in more than 100 countries. Omnicom Media Group includes the full-service media networks PHD and OMD as well as a number of specialty media communications companies.
---