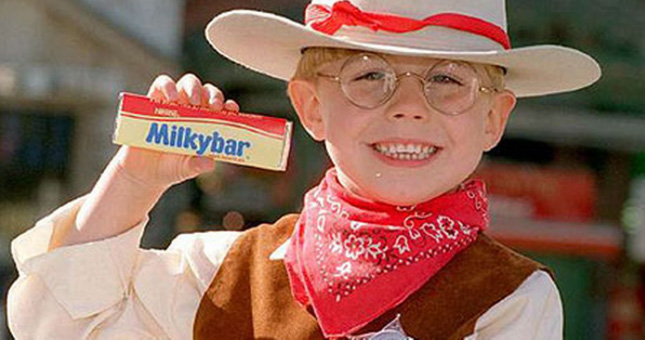 The Advertising Standards Authority has recommended tighter restrictions in the Children's Code for Advertising Food and the Code for Advertising to Children – and the findings have been endorsed by the NZ Food & Grocery Council.
NZFGC ceo Katherine Rich says food and grocery manufacturers recognise the need to protect children and will support the final ASA codes.
"FGC is also working on a new industry Advertising Pledge under which our members will make overtly clear that they agree to abide by the revised codes," Rich said. "This pledge will be a further part of industry's response to the Government's Childhood Obesity Plan."
No more Milky Bar Kid
The present Code for Advertising to Children already covers important and commonsense advertising restrictions, such as:
Not urging children or young people to pester their parents for any product, or any undermining the role of parents.
Making sure advertisments are clearly recognisable by children and separated from editorial, programmes, or other non-advertising content.
Not encouraging children to eat too much or showing portion sizes that are too big.
Not promoting inactive or unhealthy lifestyles.
Not using people or characters well-known to children to promote food in such a way so as to undermine a healthy diet, as defined by the Food and Nutrition Guidelines for Healthy Children.
Advertisements for foods high in sugar should not claim to be "low fat" or "fat free", which could mislead consumers to believe the food is low in energy or beneficial to health.
Not undermining New Zealand Food & Nutrition Guidelines for Healthy Children.
Not encouraging dangerous or bad behaviour.
Not encouraging an unrealistic body image.
Not including any sexual appeal or sexual imagery.
Not promoting any kind of gambling.
"Many people may not appreciate how the entire advertising environment in New Zealand has changed dramatically over the past few decades," Rich said. "Gone are the days of the Milky Bar Kid, Cookie Bear or Crunchie Bar campaigns that aired during children's TV programming.
"When I recently surveyed our member companies about advertising and children, they fell into two groups – they either do not advertise to children at all or they abide by the clear ASA codes. Our members regard these codes as very important to their businesses and treat compliance with them as the right and responsible thing to do."
About the NZFGC
The New Zealand Food & Grocery Council represents the manufacturers and suppliers behind New Zealand's food, beverage, and grocery brands. Our members represent more than $34 billion in domestic retail sales, $28 billion in exports, and directly or indirectly employ about one in five people in the workforce.
---