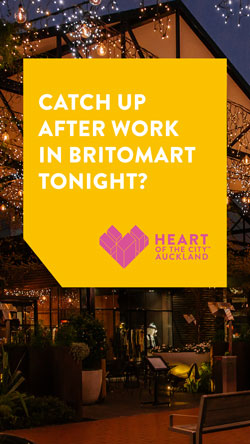 Fifty different posters have started appearing around Auckland this week as part of a new campaign from the city centre business association, Heart of the City.
The posters are running across 115 Adshel sites, 60 of which are digital and have been planned to run dynamically. As a result, specific headlines have been written to appear on specific days, and for specific relevant times of the day, and even for specific locations around the city.
The posters suggest particular businesses or time-based occasions – like, City Works Depot/Perfect for Not Working. Tried Breakfast at Amano? Now's Good – to bring to life the diversity of the neighbourhoods that make up the heart of the city.
More than 2500 different iterations have been constructed across the five weeks that the digital Adshels will be in market. Scroll down to see the video.
"It all makes for a very big complicated spreadsheet of what ad, where and when", says Steve Cochran, ECD at Colenso BBDO.
The new campaign also includes 15 new films which are running in cinema, on the Link Bus network and across digital media online. Ten of the films showcase a particular area or neighbourhood of the city centre, from Silo Park, to Vulcan Lane to the Aotea Arts Quarter. The other five films are experience-orientated, covering the city's concentration of things like sneakers, jewellery and lunchtime eats. 
Cochran said: "We needed a lot of content to create all the assets required to do the job we've set out to do. Each film has upwards of 20-plus shots, that's 300-ish in total! And why we spent more than 10 days shooting."
It's the latest evolution, and third year in succession, for the successful creative platform developed by Colenso and Heart of the City that continues to help promote city centre businesses of Auckland.
---
"This very much feels like the future of media in play."
---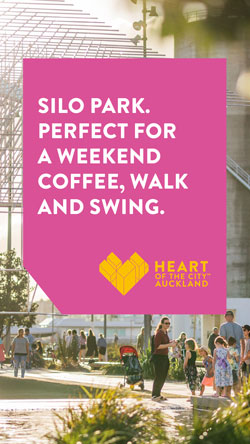 There are a lot of moving parts and businesses involved, so Colenso and OMD needed to work tightly with Heart of the City to pull off the ambitious campaign.
OMD's Chrissy Payne said: "It's one of the most complex dynamic outdoor campaigns Adshel have run yet. And in combination with the use of film online, this very much feels like the future of media in play."
Heart of the City head of marketing Kate Cleaver said: "After two successful years of the Lovebites campaign which showcased individual businesses, this year's work builds out from there to help Aucklanders identify and appreciate the different, unique precincts that make up the heart of our city.
"A sum-of-the-parts approach. Each area has a distinct offering and personality and we wanted to tell the story of those places, to give Aucklanders a small taste and encourage them to explore more."
Adshel NZ digital & technology sales manager Rick Goodwin says Colenso, OMD and Heart of the City are making smart use of Adshel Live's inherent flexibility and dynamic capabilities;
"This campaign is a fantastic demonstration of how harnessing the power of digital out-of-home coupled with Adshel Live's complete campaign flexibility, can enable hyper-targeted, hyper-relevant, and dynamically served messaging by time, day and location in a real world environment," he said.
"It has also been a pleasure to have had the opportunity to work with both Colenso BBDO and OMD to help execute this concept for Heart of the City."
The campaign also includes an integrated partnership with NZME across their print and digital platforms. Elements of the partnership include editorial content, user generated content as well as a more traditional advertising layer.
All these elements have been extended into the online Chinese Herald, who will develop bespoke content more relevant to their audience.

CREDITS
Client: Heart of the City
Agency: Colenso BBDO
Media Agency: OMD
Partners: Adshel
---