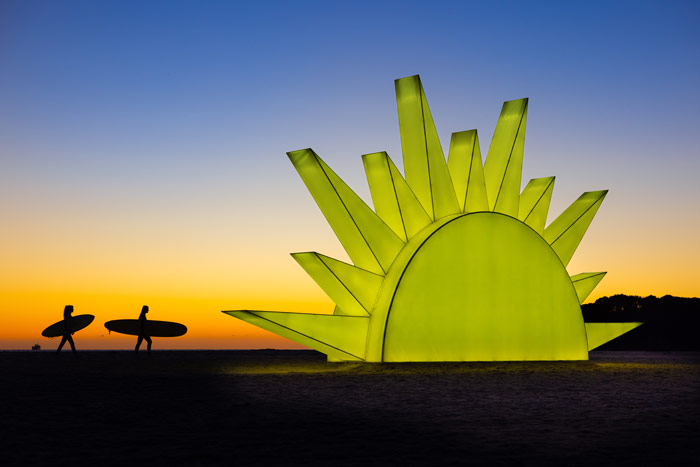 AUCKLAND, Today: After an unseasonal start to the year that saw sunshine hours hit record lows across New Zealand, the sun was set to shine in the Bay of Plenty this month – as a giant light therapy sun sculpture landed in two Kiwi towns.
The Second Sun was created by FCB Aotearoa in collaboration with The Glue Society for Mercury, and PR managed by Artemis Communications.
The Second Sun is illuminated by 8000 bulbs that emit a light designed to lift moods during the darker winter months. At 18-metres-wide and 8 metres tall, the enormous sun sculpture is thought to be the largest installation of its kind.
Mercury head of brand & marketing Sarah Cowan said: "With Mercury research revealing that three in four New Zealanders believe that they have experienced the winter blues this year, and that almost one in three feel the weather has impacted their mood 'most days' over the past three months.
"Mercury hopes the installation will bring a bit more wonderful back into Kiwi days. 
"Light therapy lamps are a commonly used alternative treatment for supporting feelings of low mood and reduced energy in winter. In regions with limited winter sun, research has shown that daily exposure to 30 minutes of sun-mimicking bright light – particularly in the morning – can have a positive impact on a person's mood.
---
"The Second Sun has landed – on Mount Maunganui and in Dunedin's Octagon."
---
"We wanted to create a unique wonderful way of bringing people together and bringing our platform, 'Energy Made Wonderful', to life. We hope the Second Sun injects positive energy into the community – a little light relief."
Leisa Wall, CCO at FCB Aotearoa, said: "This is truly an embodiment of Mercury's platform Energy made Wonderful. It's fantastic that Mercury is demonstrating how energy can not only be essential in our lives but make something quite wonderful in a time when we desperately need it."
Art and directing collective The Glue Society was commissioned to create the Second Sun installation. The sculpture was manufactured and installed by Auckland company Unique Creative under supervision of production company Revolver.
Glue Society artist and project director Pete Baker says that he wanted to create an artwork that invites people to be a part of the experience: "What could be more wonderful than an enormous Second Sun that travels around New Zealand during the cold, dark winter months to bring light, raise a smile and lift the mood of the people that encounter it?
"There have been countless interpretations of the sun throughout history but we wanted to create a new version that's an enormous, impossible-to-miss Kiwi sculpture that isn't just wonderful to look at but makes you feel wonderful too."
"The Second Sun landed on a typical Kiwi beach town – Mount Maunganui –on Friday 4 August and ran through to Sunday 6 of August, as well as Dunedin's Octagon from Friday 11 August through to Sunday 13th."
The Second Sun is the latest in a series of light installations and festivals Mercury has supported so far this winter, including The Takapuna Winter Lights Festival and The Taupo Winter Festival.
---

CREDITS
Creative Agency: FCB
Chief Creative Officer: Leisa Wall
Chief Creative Officer: Peter Vegas, Leisa Wall
Senior Copywriter: Alan Jones
Senior Art Director: Angelo An
Head of Content: Amanda Langkilde
Content Director: Michael Braid
Managing Director: Laura Goldie
Head of Client Partnership: Emily Jagger
Chief Strategy Officer: Matt Kingston
Strategy Director: Grant Henderson
Social Strategy Director: Hamish Russell

Client: Mercury
Head of Brand and Marketing: Sarah Cowan
Marketing Manager Brand & Engagement: Michaela Chilton
Partnerships & Activations Manager: Anna Wishart
Brand & Campaign Manager: Stephanie Suddaby

Production Company: Revolver
Art & Directing Collective: The Glue Society
Director & Artist: Pete Baker
Managing Director / Co-Owner: Michael Ritchie
Executive Producer / Partner: Pip Smart
Executive Producer: Jasmin Helliar
Producer: Anna Stuart
Director of Photography: Rob Marsh
Illustrator: Andrea Davies
Model Maker: Unique Creative

Post Production: The Glue Society Studios
Offline editor: Phil Horn
Post Production: The Glue Society Studios
Offline editor: Phil Horn
Sound: Liquid
PR: Artemis Communications Auckland
CEO: Isobel Kerr-Newell
PR Director: Beccy Churchill
PR Senior Account Manager: Hannah Pearce
Media photography: Brett Phibbs
Activation: Spur
Account Director: Harriet Boyce
Account Executive: Casey Mew
---