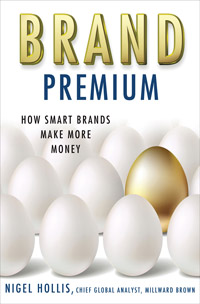 Why do consumers pay a premium price for a brand? Colmar Brunton's latest Thought Leadership release points to the answer:
They pay a premium price (says the release) because they find the brand to be meaningfully different from the alternatives.
Whether that meaning is rooted in a functional performance or an emotional connection people are willing to pay more for brands that offer meaning and stand out from the crowd.
In his new book The Meaningful Brand: How Strong Brands Make More Money, Executive Vice President and Chief Global Analyst at Millward Brown (Colmar Brunton's global partner), Nigel Hollis, shares the importance for marketers to identify a brand's meaningful difference and focus on amplifying that meaningfully different brand experience for the consumer.
A lack of meaning is creating a market full of commodities rather than products and brands that instil strong loyalty.
Loyalty equals repeat business and is the key to long-term success. Building consumer loyalty requires focusing on meaningful differentiation: functional, emotional, or societal.
For further information on The Meaningful Brand click here.
---