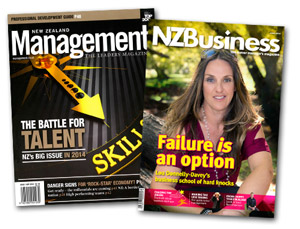 The New Zealand Institute of Management has negotiated a new publishing partnership with Auckland-based Adrenalin Publishing to resume publishing one of the country's best professional magazines – New Zealand Management.
NZIM has bought the Management masthead and Executive Update electronic newsletter from McDonald Vague, the receiver of Management's former publisher Mediaweb. Mediaweb went into receivership in March. The last issue of Management was published in April.
Adrenalin now plans to combine Management into a package with one of its own titles, NZBusiness.
Management is in its 60th year. "We think Adrenalin, which publishes NZBusiness and several other trade and professional titles, will soon get Management back on track as one of New Zealand's most respected professional publications," said NZIM chairman Dan Coward.
Adrenalin is an established magazine publishing company with a speciality in the business-to-business and trade magazine area. Its existing titles include NZBusiness, DEMM Engineering & Manufacturing, Electrical Technology, BeautyNZ, Exporter, Motor Equipment News, NZ4WD and NZ Company Vehicle.
"We are excited about working with NZIM and in taking charge of the Management brand and looking to further develop it," said Adrenalin publisher Cathy Parker.
"NZBusiness and Management will be published in a new combined format which will allow each title to retain its own identity whilst giving readers the added value of the complementary content of the other title and providing advertisers a significantly increased distribution for each title allowing them to reach more decision-makers than ever before with the NZBusiness/Management combo," Parker said. "Truly the Power of 2!"
A new editor will be appointed for Management. Glenn Baker will continue to edit NZBusiness. Leanne Moss (leanne@adrenalin.co.nz), the advertising manager for NZBusiness will handle sales for both titles.