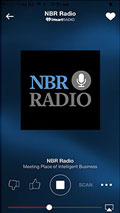 iHeartRadio New Zealand has partnered with the National Business Review to add NBR Radio to its platform, aiming to continue to grow the depth of its content offering across all genres.
NBR Radio offers listeners a dedicated stream of business news, plus in-depth analysis that complements its print and online articles.
Hosted by broadcasters Grant Walker, Andrew Patterson, and Owen Poland, NBR Radio's free stream features interviews, panel discussions and talks with NBR reporters, giving listeners context and the chance to hear what goes on behind-the-scenes.
After recently announcing the addition of Radio New Zealand and Radio Rhema to iHeartRadio, NZME group strategy & operations director Carolyn Luey is pleased NBR is signing up.
"NBR's addition further extends the content available on iHeartRadio that is of interest to business owners, professionals and corporates. NBR Radio offers a unique business focused station and is one of a growing number of media businesses to partner and join iHeartRadio."
NBR publisher, Todd Scott says, "iHeartRadio offers an exciting opportunity to extend the reach of NBR Radio, and make  one of our fast-growing services easier to access on mobiles," Luey said.
"It's great to have one service that runs seamlessly across iOS and Android smart devices, giving NBR Radio access to iHeartRadio's 365,000+ registered users on the move."
iHeartRadio New Zealand has over 365,000 registered users and is a content platform that delivers live stations, digital stations, custom radio and podcasts.
You can find NBR Radio at www.iheart.com/live/nbr-radio-6965 or download the iHeartRadio app from your device's relevant app store.
---