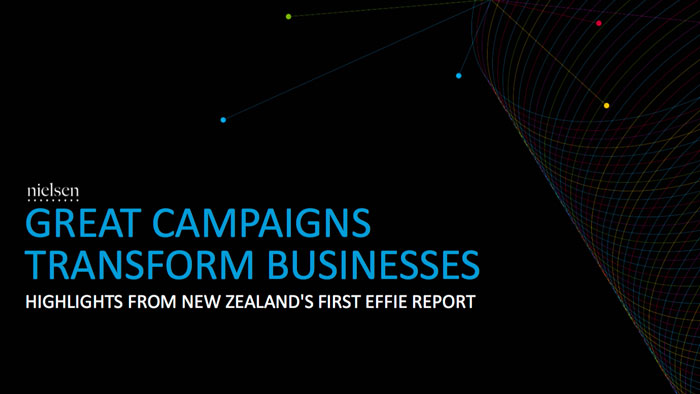 The secrets to the success of some of New Zealand's most effective marketing campaigns were unlocked at yesterday's launch of the inaugural 2016 Effie Report.
For the first time, the entries of Effie winners and finalists have been analysed to reveal the common threads and insights from the campaigns proved to be the country's most successful when it comes to meeting and exceeding advertising objectives.
An Effie Award is recognised by advertisers and agencies globally as the industry's pre-eminent award and represents the pinnacle in advertising effectiveness. The Effie programme runs in 40 countries and has been in New Zealand for 15 years, run by CAANZ.
In creating the 2016 Effie Report, CAANZ and research company Nielsen set out to discover what it was that made New Zealand's Effie-awarded campaigns so powerful and the lessons the industry could take from those successes when creating and delivering future campaigns.
Nielsen examined entries from finalists and winners in the 2015 Effie Awards and conducted in-depth interviews with past and present judges to reveal emerging trends and identify the common key factors behind transformational campaigns across areas such as research, audience connection and ROI.
At the launch, creatives, planners, media and marketing clients gathered at the Viaduct Events Centre to hear Nielsen executive director Carin Hercock explain the report's findings and how they can be used to create more effective, measurable campaigns that can deliver even better results for client and agency.
Effie-awarded senior marketing professionals Andrew Stott (IRD) and Gail Pettit (ASB) also shared how planning and collaboration helped to drive effectiveness when developing their own work.
CAANZ ceo Paul Head says the report aims to make marketing more effective for everyone involved.
"As marketers we live in an increasingly data rational and measurement-focused world and we're all – marketer and agency alike – under constant pressure to prove the value of the work we do and be ever more effective.
"We hope the inaugural Effie Report can form part of the toolkit to help us do just that."
The 2016 Effie Report is available for download here
---