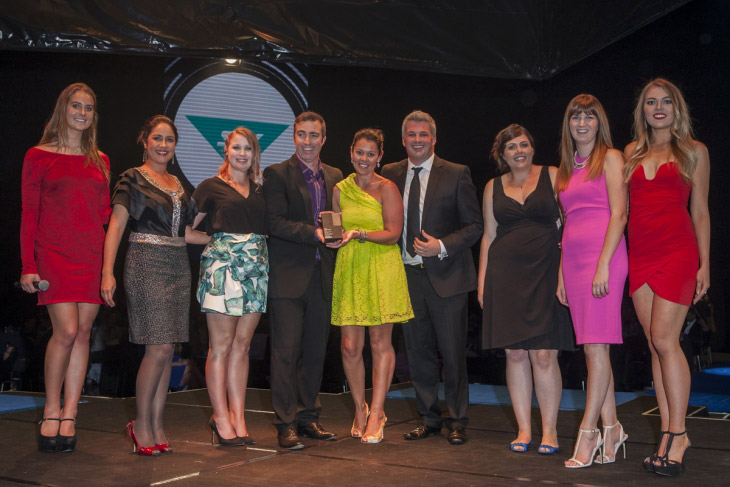 FCB Media blitzed the field at last night's Beacon Awards – yet it was a little-known indie that appeared dramatically out of left field to claim the Big One.
FCB won Best In Show (for Noel Leeming People's Stories) on top of an astonishing 11 Golds and 12 Silvers (surely a record at the media awards).
MBM Media ("MB who?" somebody wondered) took out three Golds and three Silvers.
Then, just as the doors were about to close on another FCB triumph, the shop started in Wellington & Auckland in 2010 by Sean McCready & Matt Bale was crowned Media Agency of the Year.
Apart from FCB & MBM, everybody else was an also-ran. Spark PHD got closest, with one Gold and three Silvers, and a joint OMD/Clemenger effort won the Beacons' only other Gold.
OMD also scored five Silvers and MediaCom two Silvers, while one Silver apiece went to Open, Ogilvy Media and Starcom.
Media Brand of the Year was MediaWorks TV (in a show in which TVNZ is the major sponsor), Advertiser of the Year was Maritime NZ, and Nielsen's Claire Harris picked up the Inspiring Individual Award.
And if there'd been an award for the best-dressed awards venue ever, it would've gone to CAANZ, who took the Viaduct Events Centre to a completely new level, via events manager Kelly Gilkison's innovative floor plan.
This mimics the huge live set on Rialto's Later With Jools Holland. The circular Viaduct room featured a stage in the middle from where the prizes were handed out. MC Jesse Mulligan occupied his own stage, set against one wall, while the other walls featured big vertical screens cranking out classic rock'n'roll.
The configuration allowed CAANZ to seat a record 840 guests (600-odd last year) in comfort, with plenty of leg and elbow room and unobstructed sight lines to the action.
The schedule moved along at a good pace, thanks in part to a decision to leave the campaign summaries and judges comments to the book (due out next week).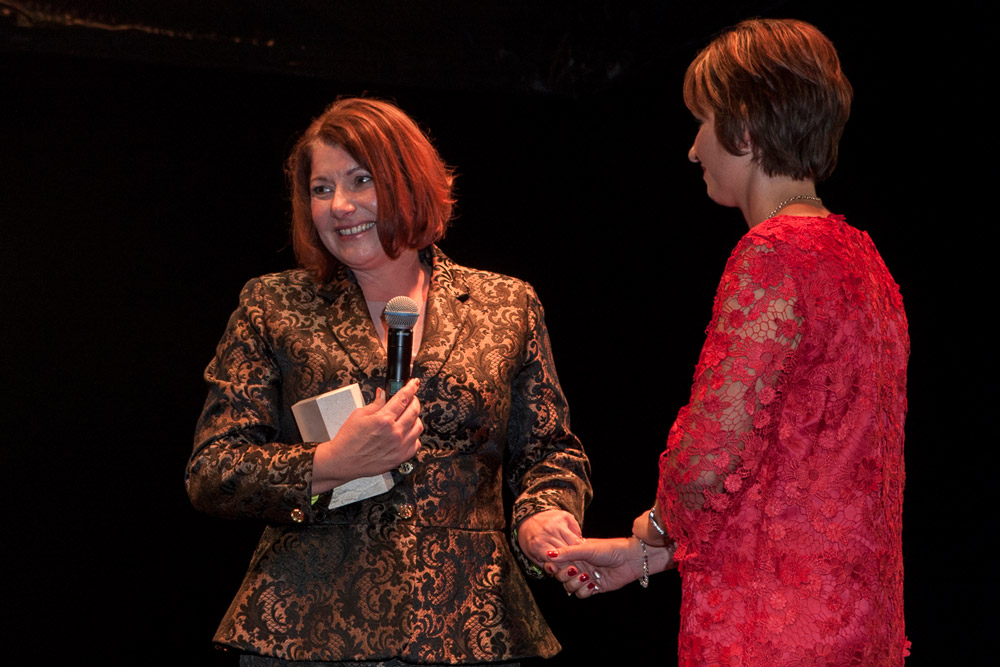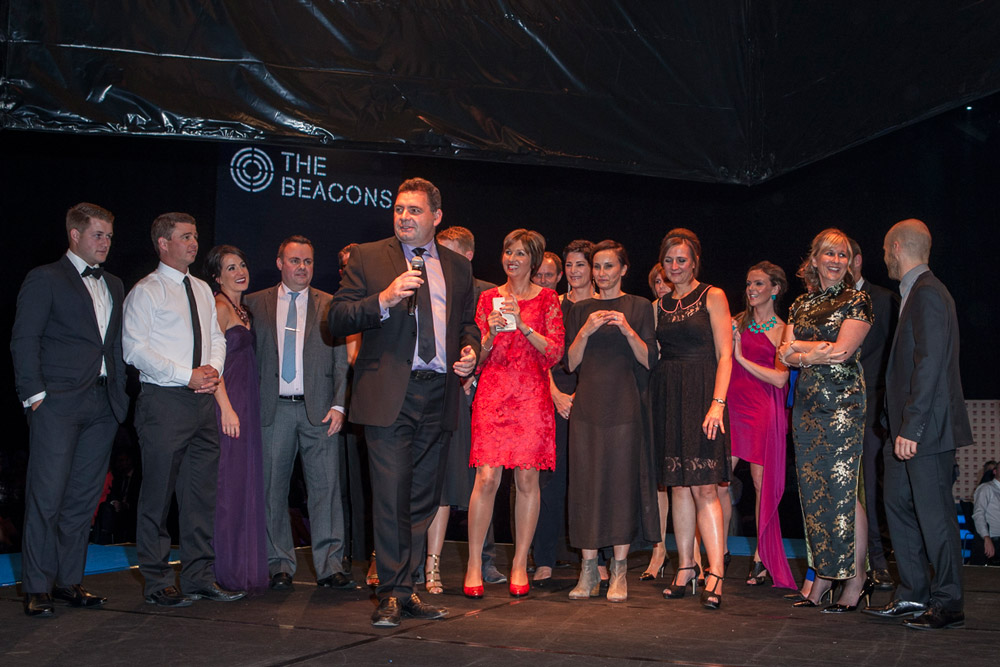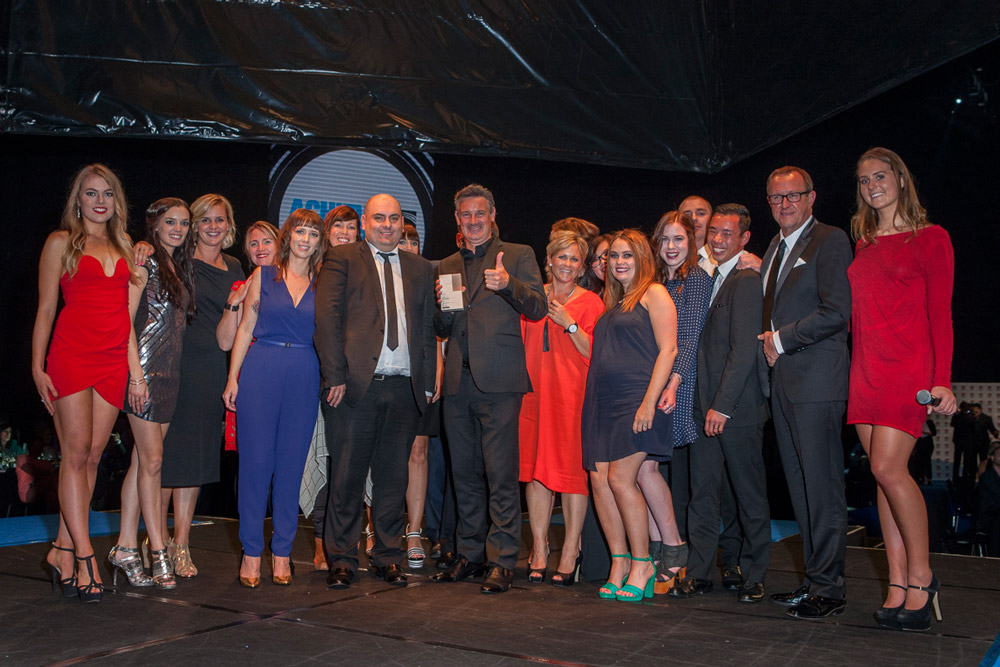 Here is the official CAANZ press release:
Media Release
1 May 2014 
Over 830 of New Zealand's leading media personalities came together to celebrate the industry's best work of the past year at the inaugural Beacons Awards at Auckland's Viaduct Events Centre,  emceed by TVNZ's Jesse Mulligan with entertainment from Auckland Daze.
The evening belonged to FCB Media who picked up the majority of the night's awards including Best in Show for Noel Leemings' People's Stories which also won gold in the Best Collaboration, Retail/etail and Most Effective categories.
The Executive Judging Panel commented that People's Stories was a bold and well-integrated approach, with great execution that created very strong sales results.   They agreed Noel Leeming Group should be applauded for backing an idea that provided a clear departure from traditional retail advertising. It was a high stakes gamble that paid off.
FCB Media's client Maritime NZ was named Advertiser of the Year for their Nudging Behaviour Change campaign.   Judges commented on utilising great use of a behavioural insight and a clever strategy that followed the consumer through multiple touch points. It was an innovative and well-designed media campaign.  Advertiser of the Year was decided on the calculation of points awarded for their tally of 4 gold Beacons in Best Integrated Campaign, Best Use of Insight, Best Communications Strategy and the Social Marketing/Public Service categories.
McCready Bale Media (MBM) capped off a fantastic night for this indie agency being named the CAANZ Media Agency of the Year.   Media Agency of the Year is an entered category judged on the merits of the business over a calendar year.   This award takes into account business vision, employee development, financial performance, client acquisition and development, industry contribution and creativity and innovation rather than the traditional way of who won the most metal on the night.
MBM were also awarded for their An Accident waiting to happen – L&P Whittaker's Chocolate campaign for client J.H. Whittaker & Sons Ltd which scooped 3 Silver Beacons and 2 Gold for Best Launch and Fast Moving Consumer Goods (FMCG).
Other notable winners included MediaWorks TV for Media Brand of the Year for Deconstruct and Rebuild and OMD and SparkPHD picking up Gold in Best Use of Branded Content and Best Small Budget respectively.
Claire Harris from Nielsen won the Sandy Smith Inspiring Individual Award.   Liz Fraser, Director of Sales & Marketing at award sponsor MediaWorks TV said Claire's passion and energy has meant that she has been hugely successful in the delivery of numerous industry and business transforming projects.
All of tonight's 14 gold and 29 silver Beacon award winners will be taking home a brand new trophy which was unveiled at the gala dinner.  Designed by Matt Oak, Senior Designer at FCB, the inspiration for the trophy comes from one of the most iconic beacons of all The Lighthouse.
The trophy interpretation uses stone and glass, which are hand crafted by a stonemason and glasscutter.  The stone symbolizes strength and longevity with the glass prism to refract light and create the symbol of The Beacon.