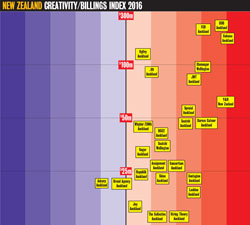 Auckland agencies Y&R, DDB and Colenso BBDO top Campaign Brief's Creativity/Billings Index 2016 – part of a wider Australasian exercise conducted by the Sydney-based magazine.
The index measures estimated billings alongside creativity markers such as award wins and submissions direct from agencies.
Y&R, DDB and Colenso are both firmly in the red (creatively hot) zone, with billings around $300 million.
Next on the creativity index come FCB, Clemenger BBDO Wellington, and Barnes, Catmur & Friends – all in the bright pink zone (with FCB's $280m billings leading the way; Clemenger has $100m and Barnes Catmur $50).
Indies – already on a high after the Axis finalists were announced last week – are again prominent (mainly in the creativity index) with Special, Contagion and Lachlan close behind Barnes Catmur on creativity.
Bringing up the rear in both categories – residents of the Blue (creatively cold) zone, both with billings around $20m – were Adcorp and Brand Agency.
Occupying the middle ground in both billings and creativity are bcg2, Saatchi & Saatchi, Consortium, Assignment, Shine. The Collective and String Theory both made the pink creativity zone, but were low on billings.
Ogilvy, Whybin\TBWA and .99 stand out for strong billings – but low creativity. Hanging in there on the creativity index were Sugar&Partners and Republik – both in the pink zone.
The full coverage can be read here: Full NZ and Australian reports here
Request a free hi-res PDF from michael@campaignbrief.com
The print edition of Campaign Brief, containing the full reports, comes out next week. It can be read online here
---