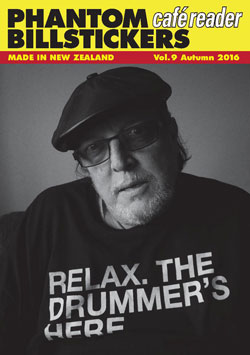 The Autumn issue of Phantom Billstickers' feisty music, poetry & arts magazine Cafe Reader is now on sale around NZ.
Issue #9 contains 88 pages, featuring work by Genevieve McClean, Gavin Shaw, Jeanne Bernhardt, Nick Theobald, Ivy Alvarez, Nidar Gailani, James George, Peter Olds, Buster Stiggs, Stephen Oliver, Michael O'Leary, Alan Harold (art), Kay McKenzie Cooke, Michael Gould/Will Saunders (art), Wayne Seyb, Nicky Taylor, Dominic Hoey, and Chris Knox.
This issue was supported by advertising from Moreporks Clothing, Beat Box Christchurch, Megaphone Productions, Serie Barford new poetry & short story collection, RDU, Flying Out, Brian Turner new poetry collection, Real Groovy, NZ Comedy Fest.
The cover features a photo of legendary Suburban Reptiles drummer Buster Stiggs (taken by Axemen drummer Stuart Page).
The centrefold is new art by Chris Knox.
This edition will be available for download for Kindle via Amazon.com next week. Search for Phantom Billstickers Cafe Reader.
---