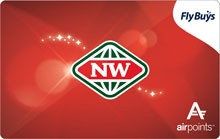 Auckland 1-1 agency justONE has developed a new customer loyalty programme exclusive to New World, with the launch of a Clubcard to the brand's South Island customers.
The New World Clubcard offers valued customers access to instant discounts and exclusive deals, coupled with the ability to also maximise their existing Fly Buys or Airpoints programmes – all with one easy swipe of the card.
"Like all projects of this nature, it's taken a lot of hard work from all parties, to get to launch," said justONE/.99 managing director Ben Goodale. "Essentially we needed to fully integrate the Clubcard with the Fly Buys and Air New Zealand systems so that New World customers get maximum benefit."
The collaboration means that on top of access to New World specific promotions and special offers, customers can continue to collect either Fly Buys points or Airpoints dollars across the whole Fly Buys network using their New World Clubcard. In addition, at certain times during the year they will be able to convert their Fly Buy points or Airpoints Dollars into New World dollars to spend as cash in store.
"We believe this new loyalty offering will excite New World shoppers and allow them to make the most of their shopping experience whilst enjoying all the benefits of making New World their 'first-choice' supermarket," Goodale said.
New World group general manager marketing Steve Bayliss said: "As experts in the field of loyalty programmes, justONE were instrumental in helping us bring this to life. Our brief was to create a New World exclusive rewards programme that leveraged our existing currency partners, Fly Buys and Air NZ, and offered customers the best deals and incentives each time they shopped with us."
Air NZ GM customer value Hamish Rumboldsaid: "The launch of New World Clubcard is a pretty unique customer proposition, as it allows customers to choose what currency they want to earn – Airpoint Dollars or Flybuys points.  We are very excited about the opportunity for Air NZ and New World customers to earn Airpoints on their weekly grocery shop so they can hopefully get flying faster."
The launch of the New World Clubcard is being rolled out in the South Island first, targeting Fly Buys and Airpoints customers, with New World Clubcard deals now appearing in South Island stores.
CREDITS
Client – Foodstuffs
Group General Manager Marketing: Steve Bayliss
Head of Customer Marketing & Insights: Emily Blumenthal
Marketing Manager CRM: Eugene Ruane
New World South Island Manager: Ross Martin
Business Systems Manager: Gordon McCoy
Group Brand Director: Jules Lloyd
Customer Marketing Manager: Lisa Bailey
Head of Digital Marketing: Camilla Leonelli
Customer Marketing Co-ordinator: Kimberly Davis
STRATEGIC PARTNERS
Partner Manager: Mark Reeves  – Air New Zealand
Direct Customer Communications Manager: Anna Gavin – Air New Zealand
Strategic Partner: Loyalty New Zealand
Head of Marketing: Adele Fitzpatrick
Head of Rewards: Brett Hibbert
Head of Legal Commercial and Risk: David Webb
Segment & Social Marketing Manager: Fiona Hicks
Lead Insight Manager: Gareth Williams
Senior Marketing Information Analyst: Mathew Paton
Service Operations Manager: Matt Fuller
Applications Manager: Paula Keene
Data Warehouse Architect Team Lead: Shane Sinclair
Head of Strategy: Simon Pohlen
Project Manager: Steve Lowndes
Key Account Managers: Tiffany Bax and Valerie Von Geldern
Agency: .99 and justONE
Managing Director: Ben Goodale – justONE/.99
Managing Partner: Amy Watson – justONE
Senior Account Director: Marnie Brannigan – justONE
Account Director: Monique Strawbridge – justONE
Senior Account Manager: Alexandra Hogan – justONE
Senior Account Manager: Virginia Bashford – justONE
Account Executive: Will Riley – justONE
Creative Director: Stu Hinds – justONE
Creative Director: Drew Ayers – justONE
Studio Manager: Justin Biddle –justONE
Senior Mac Operator: Stacie Buswell – justONE
Group Account Director: Pippa O'Regan -.99
Senior Account Manager: Jessica Rose -.99
---