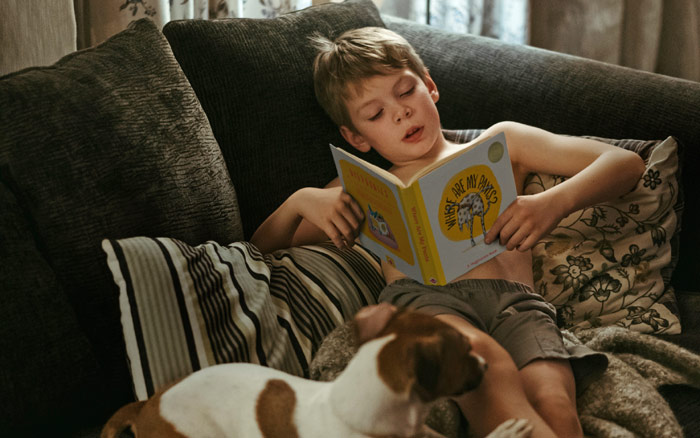 AUCKLAND, Today: Colenso BBDO has crafted a Pedigree campaign to help boost the confidence and literacy of children by encouraging them to read to a dog.
Colenso CIO Maria Devereux said: "The fear of reading aloud and failing is proven to inhibit literacy amongst children. Over the last two years, child literacy rates have declined with home learning, resulting in a decrease in practice in reading aloud and with confidence.
"With the belief that dogs bring out the best in humans, Pedigree has launched a reading programme that consists of five books, specifically designed to be read to a good listener, someone who's extremely patient, full of love and never judgemental.
"A study co-created by Pedigree and The Waltham Petcare Science Institute found that having a dog as a listener can improve a child's sense of confidence, moderate feelings of anxiety, and provide support."
Child & educational psychologist Dr Emma Woodward said: "All kids need to learn to read, but for some this experience can become fraught with a sense of not being a good reader so they lose confidence and motivation and then with it, the sense of joy that reading stories can bring.
"The Pedigree Dogphonic books provide an opportunity for kids to fall in love with reading without the pressure of feeling they need to achieve."
---
"All proceeds from book sales go towards rehoming shelter dogs."
---
Mars/Pedigree global brand director Fabio Alings said from Miami: "Our purpose at Pedigree is to 'feed the good' dogs bring to the world.
"Hence, we have a long history of creatively celebrating not only how we as humans literally 'feed the good' in dogs, but how dogs also 'feed the good' in humans, as their lovable innocence brings out the best in us.
"The Dogphonic book set perfectly captures the essence of that purpose: Dogs boosting the confidence of children who are learning to read, and young readers returning that favour by helping shelter dogs find a loving home to call their own."
Maria Devereux: "Reading anxiety is common, especially at an age where children are going through behavioural changes and developing their own emotional processes.
"The Waltham Institute has given Pedigree Dogphonic books the science to succeed and the commitment to design craft and storytelling from the Colenso team, past and present – Levi, Dave, Rob and Charlie – has taken that educational science to another level"
The Pedigree Dogphonic books programme is launching in New Zealand, with titles such as It Was Not Me, I Did Not Eat The Alphabet and Where Are My Pants?. The book set will be available at bookstores, with digital versions available from Amazon.com. All proceeds from book sales go towards rehoming shelter dogs.

CREDITS
Client: Mars
Client: Global Brand Director, Fabio Alings
Client: Marketing Manager – Pet, Cormac Van Den Hoofdakker
Agency: Colenso BBDO
Production Company: Production Partners
Media Agency: Wavemaker
Child, Educational & Community Psychologist: Dr. Emma Woodward
---