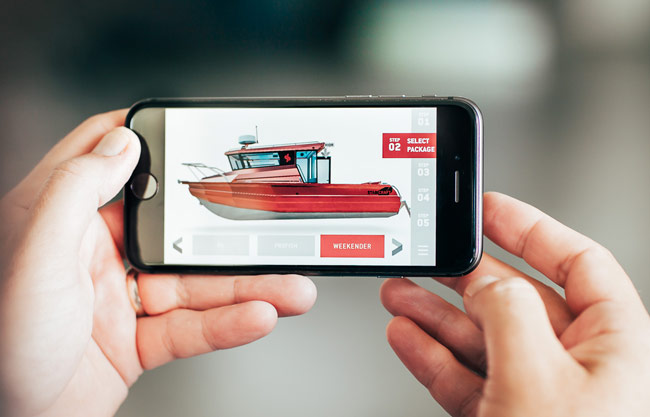 AUCKLAND, Wednesday: Digital Twin, the boutique interactive division of award-winning Newmarket-based creative studio Kaleidoscope, has created a new, fully interactive 3D online tool for Invercargill-based boat builder Stabicraft. 
The reliance on traditional boatshows to showcase products has become more difficult with a growing international market and increased reliance on digital as a contactless sales tool to engage with customers remotely.
Using Digital Twin's own 3Di software, an online experience, Build my Stabi (scroll down for the link), has been created as a virtual product demonstration, making it easy and seamless for customers to explore features through animation, learn about different packages, then customise and visualise their dream boat and request a quote.
Stabicraft marketing manager Daniel Upperton said their research showed that more customers were getting their information online, and a smarter offering was needed.
"Amplifying our online experience to be more engaging, easier and enjoyable was a critical step for the business," he said.
---
"We've had 3000 users on that page and received 50 requests for quotes – which on a $200,000+ boat is impressive."
---
The team at Kaleidoscope have been exemplary to work with in establishing our vision. Nothing like the Build my Stabi project has ever been realised to the level and complexity that Kaleidoscope has been able to deliver. They are true masters of their craft.
"In the two weeks since launching the boatbuilder we have seen a huge lift in engagement on our website, specifically the Build my Stabi page.
"We have had 3000 users on that page and we have received around 50 requests for quotes – which on a $200,000+ boat is impressive.
"Our social promotion of the Build my Stabi has also had some impressive engagement results with 565 reactions, 164 comments and 30 shares. The feedback has been hugely positive and we have only launched one boat model so far."
Kaleidoscope's 25 years of cinematic experience helped Digital Twin get the details perfect on the project, says GM Paul Stephenson.
"It's always a collaborative effort on every project so our live action and animation experience really added to the polished, photo-real CGI look, as well as making the backend fully customisable so Stabicraft can modify information quickly and easily, empowering their internal teams to react to trends and create packages that suit.
"The 3Di platform's capabilities have almost unlimited ability to create new ways to interact with augmented reality. Products and services can be brought to life and stand out using interactive video, sound, animation and motion graphics, adding value to almost any online, kiosk or even live product demonstrations."
---