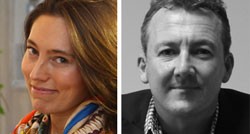 MSLGROUP, the flagship strategic communications and engagement consultancy of Publicis Groupe, and the largest brand and reputation advisory network in Asia and Europe, has announced an affiliation with indie NZ PR consultancy One Plus One Communications.
MSLGROUP Asia Pacfic has a network of 34 owned offices and 13 affiliates, in 19 markets. One Plus One quickly established a strong presence in the market since industry veteran Kelly Bennett founded it in August last year.
"MSLGROUP and One Plus One Communications share the same philosophies and employ the same approach," said MSL Asia regional business director Charlotta Lagerdahl Gandolfo.
"We both base our integrated communications strategy on thorough data and insights and execute through a seamless integration of creative, social and digital strategies to achieve maximum impact for our clients' brands and businesses.
"We're delighted to have One Plus One Communications support our clients and join us as our affiliate in New Zealand."
Bennett said, "We're thrilled to partner with MSLGROUP, in my view the region's best communications and engagement consultancy.
"This partnership provides our existing and future clients with the insights and resources of a global network and we look forward to becoming an integral part of the MSLGROUP network of affiliates by providing a local perspective and on the ground support."
About MSLGROUP in Asia
For 25 years, MSLGROUP has counselled global, regional and local clients in Asia, helping them establish, protect and expand their businesses and brands across this fast-growing region. Today, communications and engagement consultancy MSLGROUP has the largest PR, social media and events teams in Greater China (12 offices and 700+ professionals) and India (12 offices and 550+ professionals) and is actively working to lead the development of the industry with the regular publication of whitepapers/reports and innovative Learning & People Development programs to nurture talent. MSLGROUP in Asia includes 34 owned offices and over 1,500 colleagues in Beijing, Shanghai, Guangzhou, Chengdu, Hong Kong, Macau, Taipei, Tokyo, Kuala Lumpur, Seoul, Singapore, Mumbai, Delhi, Ahmedabad, Pune, Bangalore, Chennai, Hyderabad and Kolkata. An activation network of colleagues reaches an additional 125 Indian and 100 Chinese cities and a strong affiliate partner network adds another 23 Asian cities to our reach. MSLGROUP in Asia is widely recognized as an industry leader and was awarded PR Agency Network of the Year for two consecutive years in 2012 and 2013 by Campaign Asia, as well as Asia Pacific Consultancy of the Year 2013 by the Holmes Report.
About Kelly Bennett
Bennett is one of New Zealand's most experienced and successful communications experts. He previously founded Twenty PR, and headed TBWA's regional PR network, successfully growing it to an operation with offices in Auckland, Sydney and Singapore. He has 20-years of international experience in corporate communications, media relations, marketing, branding and social media.
---