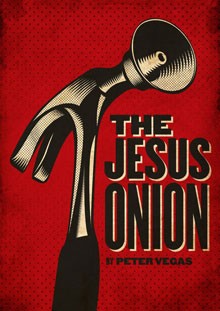 FCB senior writer (and prolific author) Peter Vegas has released his book The Jesus Onion on Kindle – and it's free for the next week.
"I've released my little book on advertising on Kindle just in time for Xmas," he told M+AD this morning. "It's free for the first week so I am hoping a few people might read it and review it – apparently reviews count in the world of Kindle – good and bad."
Here's the synopsis …
God created the world in six days. It took an ad agency two weeks to come up with Christianity. 
When the interoffice memos from a 2000-year-old advertising agency were found in a cat herders shed near the Dead Sea in the '80s, experts assumed they would gain valuable insights into the day-to-day cut and thrust of the ancient ad industry.
But the documents held much more. Page by page the story behind the story of the creation of one of the greatest brands of all time was uncovered. Dive into the pages of The Jesus Onion and step back 2000 years, into the office of Stigma & Associates.
Meet the egos, the rabbits, the donkey wrestlers* and the hummus behind the creation of Christianity.
*No donkeys were harmed in the making of this religion.
And here's the Amazon numbers;
The Jesus Onion [Kindle Edition]
Peter Vegas (Author)
Digital List Price: $3.29
Kindle Price: $0.00 includes free international wireless delivery via Amazon Whispernet
Length: 132 pages (estimated)
Access the Amazon page here
---