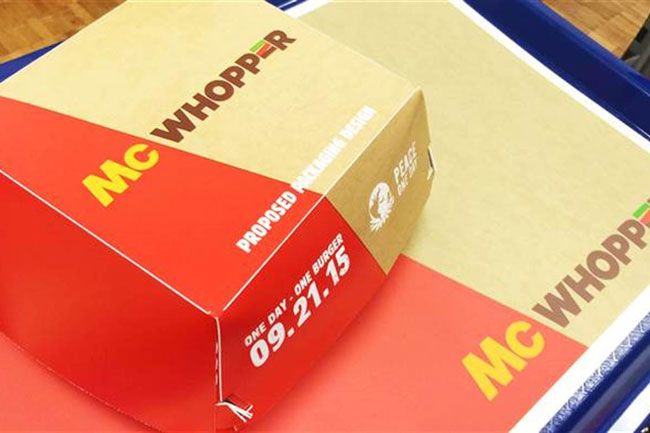 Two New Zealand agencies make The Gunn Report's list of famous campaigns from around the world – with the prediction of better things to come.
The Gunn Report is a global index of creative excellence in advertising and this week released a further 32 new mini-case studies, with two kiwi agencies getting the Bullets From Gunn.
Y&R from Auckland make the list with their McWhopper campaign for Burger King. Colenso BBDO, also from Auckland, get there with the Brewtroleum campaign for DB Export beer.
McWhopper was a winner for Y&R. After winning a Grand Prix in Print & Publishing at the Cannes Lions festival earlier this year, Y&R won another Grand Prix in the Media category, for its Burger King campaign.
Last August, the brand challenged McDonald's to collaborate on a limited product, the "McWhopper," to be sold one day only with proceeds to Peace One Day.
McDonald's vetoed the idea but by then BK had already gained a huge amount of media attention for the McWhopper campaign.
It's not the first acknowledgement for Brewtroleum either. Heineken New Zealand's "Brewtroleum" work for DB Export, handled by Colenso BBDO in Auckland, won the Grand Prix for Outdoor at the Cannes International Festival of Creativity earlier this year.
The work highlights how DB is doing its part to be environmentally friendly by turning its leftover brewing yeast into biofuel. The brand teamed up with biofuel provider Gull to create the product, which was launched last summer and made available at 60 gas stations across New Zealand.
Donald Gunn, founder of The Gunn Report on the new 'Bullets': "While we primarily identify and celebrate each year the best new advertising in the world and its creators, we also very much champion effectiveness."
The 32 new Bullets From Gunn are for a diverse range of advertisers, are from both networked and independent agencies, and are from a variety of countries: Australia, France, Germany, India, Norway, New Zealand, Spain, Sweden, Thailand, United Kingdom and United States.
Says Gunn: "In a world driven by marketing success, we predict that nearly all of these 32 new 'Bullets' which have already achieved creative success, will go on to win in the regional and national Effie Shows of late 2016 and spring 2017."
View the list of 32 new Bullets From Gunn: www.gunnreport.com
See Brewtrolium commercial below
---