Stranded in Paradise author John Dix, High Times director David Herkt, Lyttleton poet Ben Brown, Red Mole's Martin Edmond, NZ poets Shane Hollands & Elizabeth Smither & Michael Gould, publisher/poet David Merritt (that's his image on the cover, above), singer/songwriter Katy Soljak, muso George Henderson, muso/commix creator Will Saunders, poet Sandra Bell, writer Jon McLeary, Paremoremo Prison inmate/creative writing student Ngawiki (a pseudonym), social worker Allan McEvoy, poets Janet Frame, Brittany Travers and Jeffrey Paparoa Holman – all feature in the latest edition of Phantom Billstickers' Cafe Reader.
---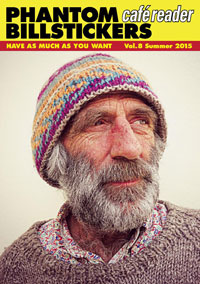 That's 76 pages of astonishing, unique NZ writing; 11,000 free quarterly copies nationwide (mainly cafes and, of course, the Ponsonby Snooker Centre), plus full page ads from Unity Books, Victoria University Press, Beatbox Studios, Bungalo Bill's Music Shop and Lemmy Lemonade.
Where the hell do Jim Wilson and his team find the time to put all this together?
To participate in future issues, or to run an ad, contact briana@0800phantom.co.nz.
---