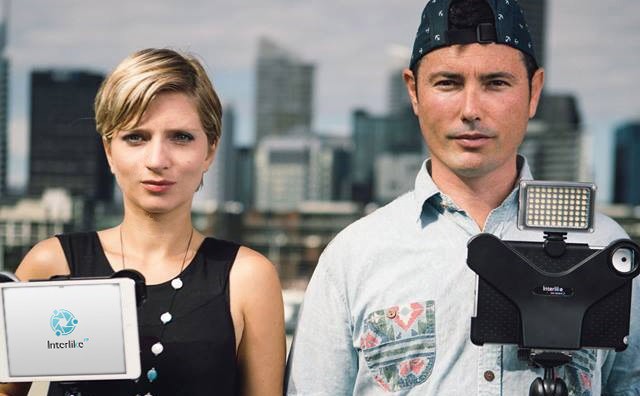 Digital content company Interlike New Zealand has this month trialled its state-of-the-art photography & social media app Interlike lite in Moscow.
The company launched in New Zealand in 2012 when commercial photographer Clinton Tudor teamed up with strategic mind Zlata K and digital wizard Kirill Kaplun, who together have close to 30 years' experience in creative photography, advertising and information technology.
Interlike's founders identified a gap in the market for a professional photography product with smart technology that would work seamlessly with a rapidly changing social media landscape.
"We have invested a lot of time and resources into developing the simplest, sexiest app in the field," co-founder Zlata K said.
Whenever there is a physical interaction with a brand, Interlike lite can be used to capture images of consumers at the height of their engagement. The app applies pre-set campaign branding and allows consumers and brands to instantly share the photos on Facebook and other social media platforms.
By turning experiential moments into shareable content, brands can maximise their organic reach on social media and harness simple and effective ROI measurement and insights.
"High quality and creative photography has always been a powerful medium to bring a brand to life online," Tudor said. "We just needed to move with the times and provide technology to make it a seamless and cost effective option for brands."
Interlike NZ has worked with Westpac, Schick and Frucor, as well as Bauer Media magazine titles Metro, Cleo and Fashion Quarterly.
Bauer group sales & marketing director of women's titles, Jackie Campbell, recently teamed up with Interlike NZ and plans to utilise Interlike lite for future brand activations and events.
"We [Bauer Media] see social media as an opportunity to talk to our readers between magazine issues and engage with a wider-reaching audience with photos from events," Campbell said.
Interlike campaigns for Bauer included a Schick Hydro VIP Photo Studio at the Cleo Midori Bachelor of the Year 2014. Images captured at the event were shared instantly on Cleo's Facebook page. Branded content reached 55,409 unique users on Facebook and over 120,000 total post impressions.
"We enjoy working with Interlike because they're creative, fun and professional – and they work with you to ensure your campaign gets the best possible results," Campbell said.
The launch into Moscow, where co-founder Kirill is based with Interlike New Zealand's development team, will see agency Vsyakij Sluchaj trial Interlike lite in the local market. Using findings and techniques Interlike gleaned from New Zealand, the agency will roll out Interlike lite at local events.
Trials in Moscow are just the beginning of Interlike New Zealand's plans for Interlike lite, with the company intending to grow the business in other markets around the world.
"The Interlike lite product and our services are universal and we have chosen Russia and New Zealand as our home bases and market launchpads," Tudor said.
For more information about the Interlike lite app and what it can do for businesses and brands, contact Tudor at clinton.tudor@interlike.co.nz or 021 2163 878.
---