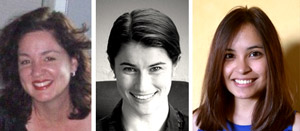 Ponsonby agency Lassoo Media & PR has three new international clients, and added three staff.
DE Master Blenders is a multi-national Dutch coffee & tea company. In the local market, Lassoo is working on three of DE's brands – global favourite Moccona coffee, the new L'OR Espresso Coffee capsules and Bach Espresso beans and freshly ground.
Blue Wing Honda is a New Zealand-owned company, and one of the oldest and largest independent distributors of Honda globally. It sells a range of Honda ATVs, motorcycles, power equipment and marine products.
Greenlane Biogas is a multi-national New Zealand-owned and based company. A leading developer and supplier of technology for upgrading biogas to renewable biomethane, it is the latest venture for Hunter Powell Investments, led by Tenby Powell.
"These are all great wins for Lassoo and we're developing a range of exciting broad-spectrum campaigns for them," says Lassoo founder Bridgette Smith. "While they're a diverse group of clients, all three offer their customers outstanding quality products, which makes them a good fit for Lassoo's own culture and focus on success."
To accommodate the growth, the agency has taken on three new staff members, two in media and one in PR. Joining the media team are Natasha Andrews, previously TVNZ's general manager of sales operations, and Richanne Hizon, a digital expert with a degree in commercial law.
Communications graduate Hannah Parr who cut her teeth helping to grow NZ retail success story, 3 Wise Men, joins the PR team and will be working across a range of consumer and corporate clients.

About Lassoo:
Lassoo is an independent Media and PR company formed in 2002 by Bridgette Smith and Anna St George who wanted to get closer to their clients' businesses. With a philosophy of anything which touches the consumer is media, Lassoo develops fully integrated campaigns across media, PR and digital; creating multi-layered platforms across all channels. Lassoo offers media strategy and buying including consumer insights, corporate and consumer PR and digital expertise spanning social media management, email marketing management and search engine marketing. The company's diverse client base includes retail, finance, food & beverage, entertainment and not-for-profit organisations.