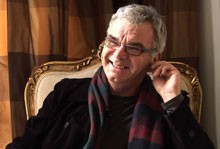 LOCAL CONTENT WORTH THE MONEY: "Back in the early '90s, Bill Gates and internet guru Nicholas Negroponte both assured me during interviews that I was working in a sunset industry, and that broadcast television would within a few years be obliterated by the Information Superhighway," writes Bill Ralston in his latest Listener column.
"Broadcast channels generate good revenue, but despite this, television companies continue to cut costs.
"Recently, TVNZ axed the local content of 20/20 because, it said, local content was expensive.
"Damn right it is, but when well produced an interesting, it has the power to make much more money than similar foreign content.
"The local TV networks have become singularly obsessed with being a platform for content rather than being content makers.
"If you make content, you can sell it over and over again.
"If you're a screening platform, you can be outflanked and overtaken by new technology.
"Gates and Negroponte will, one day, be proved right."
You can read the full Ralston column here – but you'll also need to subscribe!
---