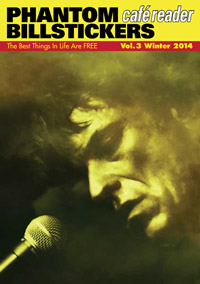 "New Zealand was a quiet place in 1982 and very heavily regulated. At night gangs of bureaucrats and policemen roamed the streets trying to catch people like me and confiscate our paste buckets.
"I am now on first name terms with a lot of these people and they hum along to Kiwi bands at rugby games. These people are now inclined to give me a wink."
– Extract from the Winter edition of Cafe Reader, Phantom Billstickers founder Jim Wilson's labour of love to NZ poetry and "the authentic Kiwi voice".
This little softback is no foldout – there's 60 pages of Kiwi poety and prose from writers like Garth Cartwright, Jeanne Bernhardt, Chris Mooar, Liz Breslin, Bruce Mahalski, Sam Hunt,Anahera Gildea, Jenny Powell, Brett Lupton, George Henderson, Tusiata Avia, Richard Langston, Tourettes, Alice Andersen, Jeffrey Paparoa Holman, Simon Sweetman, Just Ice.
Also included is a powerful piece by Wilson himself, entitled Good Cunts and Bad.
Here's a little more from Wilson's intro … 
"It is my primary purpose in life to bring this authentic Kiwi voice forward. The Phantom Billstickers poetry project was started five years ago, and since then we have placed thousands of poetry posters in Aotearoa and around the world. Something like 86 poets have been involved and we have put around 135 poems on posters and put them in places to give people pause to reflect and bring them joy …
"At the end of May, Phantom Bilstickers is hosting a poetry reading in New Hope, Pensylvania, with four authentic Kiwi poets and a bunch of locals.
"This is the kind of thing I live for – and I've had to kiss many frogs to get to this place."
You'll find Cafe Reader in record shops, bars, and other funky places like the Ponsonby Pool Hall. Or contact somebody at Phantom (www.0800phantom.co.nz).