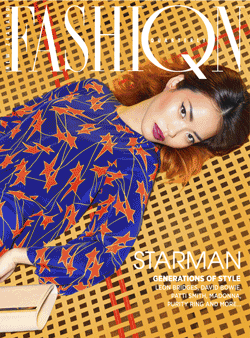 A limited run of Fashion Quarterly's autumn issue features a special edition lenticular cover. using a technology in which lenticular lenses (also used for 3D displays) are used to produce printed images with an illusion of depth, and the ability to change or move as the image is viewed from different angles.
"It's a first for a New Zealand magazine cover and an innovation which supports our position as a totally unique and forward-thinking brand," said Sally-Ann Mullin, editor of the Bauer title.
"Fashion is an essential form of self-expression and our dual-image cover, featuring both Korean model Seon Hwang and American soul singer Leon Bridges, is the perfect way to showcase our passion for diversity and individual style,"
From Bowie to Bridges, the new isssue celebrates music's influence on culture and fashion and provides readers with expert advice on how to rock this season's latest looks.
Fashion Quarterly's special edition is available now at select outlets:
New World Victoria Park
Mag Nation Ponsonby
Magnetix Lambton Quay
Mt Eden Postshop and Stationers
Mag Nation High Street
Whitcoulls Little High Street
Relay Auckland Domestic Airport
Relay Auckland International Airport
Relay Rotorua Airport
Relay Palmerston North
Relay Wellington Domestic Airport
Relay Christchurch Airport
---