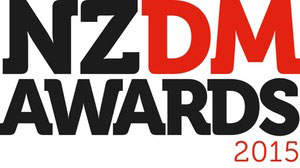 The winners of the 2015 NZ Direct Marketing Awards have been unveiled at a gala dinner held on Wednesday night in The Great Room at The Langham. Over 500 guests celebrated the campaigns defining and shaping the new possible in Direct Marketing. 
Hosted by the Marketing Association ceo Gill Stewart – and for the second year in a row emcee Michele A'Court – the awards continue to "celebrate and recognise the clients, agencies, consultancies and suppliers who have exhibited excellence in insight-driven direct marketing projects and campaigns, connected with customers on an individual basis, and generated outstanding results".
The NZ Direct Marketing Awards are sponsored by New Zealand Post.
Judging was held over two rounds and with a 20% increase in unique company entries compared to 2014, the experts had a tough task determining the winners. A total of 85 unique campaigns from 35 unique entrants all vied for metal this year.
ASB Bank, with Saatchi & Saatchi and Data Insight were the champions of the night, taking out the top awards – Grand Prix and the Nexus Supreme – respectively.
The Grand Prix judges said the ASB Snap Scholarships campaign was "a breath of fresh air, demonstrating how well ASB understood their market by introducing a relevant and highly engaging Snapchat campaign, motivating a fickle market to act".
A popular winner with the judges was the Valocity entry by Data Insight. "In a highly competitive environment, the transformation of the property data into usable information for customers was fantastic," said the Nexus Supreme judging panel.
Blending a range of diverse data sources, Valocity presents customers with actionable property data in an intuitively useable form.
This year Foodstuffs New Zealand also shone, taking out the Keith Norris Direct Marketing Organisation of the Year Award which the judges said was a wonderful case study: "One of NZ's biggest businesses has transformed itself into a data-driven organisation; marketing-led but impacting the whole organisation," they said.
"The customer-driven journey delivered great customer engagement and results. This is a journey that will become an academic treatise in the future."
Rounding out the top honours was Mitre 10 customer experience manager Mark Thompson who was crowned the Direct Marketer of the Year for 2015.
Other big winners on the night were justONE with 13 awards, six of these with client AMP, as well as four additional awards won jointly with .99 and clients Foodstuffs New Zealand and Genesis Energy.
Colenso BBDO/Proximity also took home 13 awards with clients, MARS Pedigree, Bank of New Zealand, Spark, Fonterra Brands (Tip Top) and New Zealand Breast Cancer Foundation.
FCB New Zealand were just on their heels with 12 awards, six of them with client Air New Zealand, who also celebrated winning nine awards which they had entered directly or with Westpac New Zealand.
Campaign Haus of Versant took home five golds for client Fuji Xerox New Zealand and agency Republik New Zealand; Valocity campaign received five awards; Rainger & Rolfe with clients AA Smarfuel and AA Life took home five awards; ASB Bank and Saatchi & Saatchi also received three Golds for ASB Snap Scholarships on top of their Grand Prix win.
The NZ Direct Marketing Awards are managed by the Marketing Association and made possible with the support of premier awards sponsor New Zealand Post and category sponsor Fairfax Media.
---