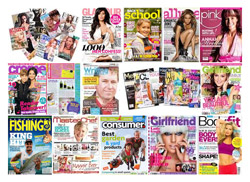 The deadline for the Magazine Awards is 5pm tomorrow (Friday 20 June). The event itself will be held in Auckland on Thursday 25 September.
Categories, conditions of entry and entry forms can be found at here.
Key things to note this year:
You no longer need to be a member of the MPA to enter.
All entry forms should be supplied digitally, via the dropbox link that we will provide to you
The majority of supporting visual materials can also be provided digitally. Only some categories will require hard copies of magazines for judging, this information is detailed on the entry forms.
Everyone intending to enter must complete a master entry form (you can find this at the above link). Only one needs to be completed per publisher.
If you intend to enter this year's awards, you should contact the MPA's Katrina Horton (on 21 766 845; katrina@mpa.org.nz), so she can provide you with a dropbox link to upload your entry and any supporting material.
---