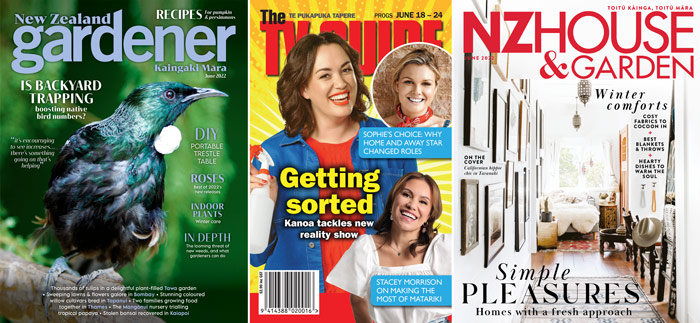 AUCKLAND, Today: Nielsen CMI data released yesterday shows Stuff's category-leading NZ House & Garden magazine is dominating the home magazine market with double-digit growth, up 12.5% or 45,000 more readers than a year ago. (Scroll down to read the full Nielsen report, covering all magazines.)
NZ's biggest selling magazine The TV Guide is read by 26,000 more readers than a year ago. Across Stuff's three retail magazines – NZ House & Garden, NZ Gardener and The TV Guide – the combined readership of 1,026,000, is up 7.1% year on year. 
---
"Strong year-on-year magazine readership demonstrates New Zealanders are continuing to enjoy small indulgences at home."
---
Stuff Head of Life Media Sarah Stuart said: "Our premium magazines NZ House & Garden and NZ Gardener are seeing strong subscriber numbers and retail sales. Almost 10% of all New Zealanders age 15+ read a NZ House & Garden in the past month, showing that Kiwis continue to find inspiration and joy in our homegrown magazines.
"TV Guide is still the go-to guide for entertainment at home and has grown in readership through the pandemic.
"Across all of Stuff's Life brands – Travel, Homed, Ensemble, Life&Style, Entertainment and our stable of magazines – audiences are looking for engaging content that reflects the way we live now.
"That trend is continuing even as Kiwis' mindsets and movements open up to the world again."
Download the full Magazines toplines here
---