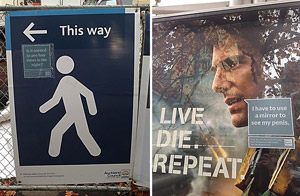 Men's Health Week has launched with a cheeky marketing campaign that was created by M&C Saatchi before it closed permanently in April.
The campaign, called Speak Up, starts today and runs till Sunday. It's designed to raise awareness of men's health issues. "One Kiwi male dies every three hours on average from preventable causes," says Men's Health chairman Phil Clemas.
"One way to help reduce this dire statistic is to encourage men to talk more with their mates about health stuff – the more they share, the more likely they'll realise its actually ok to go see a GP or to seek professional advice."
The campaign sees speech bubbles being attached to existing OOH ads in the Auckland CBD, K Road, Newmarket, Grey Lynn and Ponsonby. The speech bubbles express man's concern a man about his health, matched with an additional speech bubble that encourages men to start talking about their health. The self-adhesive material is non-damaging and designed to be easily removed from glass and any glossy service.
Here are some examples of the quotes used …
Is it normal to pee four times in the night?
Sometimes I feel like crying for no reason.
I have to use a mirror to see my penis.
I have to stop every 50 metres to catch my breath.
I noticed blood in my poo.
One of my testicles aches constantly.
I haven't spoken to my doctor in five years.
Once I start drinking I can't stop.
I'm afraid to get it checked in case it is cancer.
I'm sure the mole on my back is getting bigger.
I lie to my GP about how much I drink.
"Essentially, wherever there is a male featured on these sites, we've positioned a speech bubble next to his mouth, giving the appearance that he is talking," says Dave King, who was ECD and joint CEO at M&C Saatchi when the campaign was created.
"We combed the streets looking for outdoor posters, mannequins, billboards, roadwork signs and movie posters – basically if it had a man involved it was hijack-able media as far as we were concerned."
King believed by using humour it was more likely men would take notice.
"No one wants to be lectured to so we wanted to create a campaign that would disrupt their thinking, make them laugh, hopefully they might take a photo of it and post it on social media or show a mate in the office or over a beer," he said. "Of course the underlying message is to encourage men to speak to a mate if they have a health problem and go see a doctor for a check-up."
The official launch of Men's Health Week took place at a breakfast at Eden Park this morning where New Zealander of the Year Dr Lance O'Sullivan and the 'Motivational Guru' Dr Ed Timings both spoke. The function was emceed by ZM Drive host Paul Flynn (Flynny), a natural advocate for men taking care of themselves, having shed 35 kilograms in the past 18 months.
"Despite my wife hounding me constantly to take better care of myself and go to the doctor, it wasn't until I started experiencing heart palpations that eventually I went to my GP," he says.
"I was so lucky, the result could have been so different and I could have been a statistic – he told me I was a heart attack waiting to happen. It was a huge wake up for me as a husband and father of three young children. I've got irreparable damage as a result of not looking after myself or going for an annual check-up. Your health is so important – guys are hopeless, we need to step up, man up and start talking about it."
Men's Health Week is also supported with sponsorship from The Radio Network. A radio campaign will air 9-15 June on Newstalk ZB, Radio Sport and Hauraki. The campaign involves body parts having a voice, again playing on humour to encourage men to start talking about their health issues.
The social media hashtag for Men's Health Week is #MenStartTalking
For more information go to menshealthnz.org.nz – or go and see your doctor!
CREDITS
Client
Men's Health Trust: Phil Clemas (CEO) & Amber Rixon
Agency
M&C Saatchi
ECD: Dave King
Head of Strategy: Tony Burt
Art Director: Wicky Tafau
Designer: Shane Kelly
---