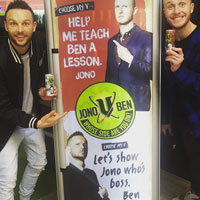 Jono V Ben, a collaboration between Mediaworks, Freemans Bay agency Beat, and Frucor, has taken out a silver award for Best Sponsorship or Product Integration at the Branded Entertainment Festival last Thursday in Sydney.
The campaign, which was Frucor's most successful Limited Edition new product launch to date, used two of New Zealand's favourite personalities, Jono and Ben, and turned them into flavours of V, creating a campaign that uses in-show segments, radio activity, digital support, social conversation, and point of sale.
"The idea was simple enough," said Luke Rive, marketing manager for V Energy at Frucor. "We'd give Jono and Ben their own flavours and they would compete to sell the most. The complexity came from piecing together the way they would go about the competition. We all knew it would need to be an elaborate story to drive interest and sales throughout a pretty long campaign period.
"Not only did consumers love the product, but the incredible amount of engagement from the trade has allowed us to achieve record sales numbers.
"This campaign is a superb example of how collaboration between different partners can reach consumers across all platforms. Not only was the social engagement was exceptionally high but the journey pieces following Jono & Ben's creation of their own V flavours made for great radio and TV content."
Mediaworks integration sales manager Chris Lloyd said: "This award is great recognition for a dedicated team at Mediaworks and Beat, and in V we have a brave client open to big ideas."
Beat strategic director James Boult said: "The success of Jono V Ben is a testament to the power of influencers when partnered alongside a great brand with a unique story to tell."

CREDITS
Frucor
Marketing Manager V Energy: Luke Rive
Senior Brand Manager V Energy: Nicky Moltschaniwskyj
Assistant Brand Manager: Ashleigh Anderson
Beat
Strategic Director: James Boult
Creative Projects Director: Richard Brewer
Senior Account Manager: Harriet Mahaffie
Account Executive: Adam Warin
Mediaworks
Jono & Ben Executive Producer: Bronwynn Bakker
Integration Sales Manager: Chris Lloyd
Integration Account Director: Adam Stevenson
Integration Sales Specialist: Cam Bakker
Project Manager: Mike Banks
OMD
Rob Thomas: Senior Account Manager
Zac Stephenson: General Manager
David Turner: Group Investment Director
Ben Poole: Account Executive
---