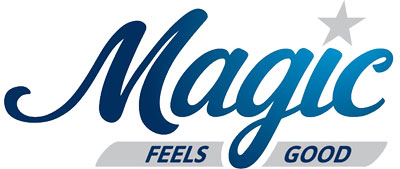 Hard on the heels of the Kiwi FM announcement (below), MediaWorks has today unveiled a new nationwide radio brand, Magic, which will launch on Monday 20 April.
Magic will be programmed by Ian Avery, who is also content director for The Breeze. Mark Leishman will host the 6-10am breakfast show Magic in the Morning; and former Hauraki pirate Bob Gentil will host the Magic Work Day (10am-2pm), and Mark Smith hosts Magic Drive from 2pm-7pm.
Magic is aimed at the 50-69s who have a "youthful, active approach to life", and will feature the music and culture that shaped their formative years (think Elvis, Beach Boys, Roy Orbison, Dusty Springfield, Rod Stewart).
"Magic is the radio station a lot of Kiwis have been missing," said Leishman in a statement. "Fantastic music and a feel good attitude will be at the heart of everything we do. I can't wait to get started!"
MediaWorks Radio ceo Wendy Palmer says Magic will further strengthen the company's reach. "With the success of The Sound and The Breeze we have a very strong position at the top end of the 25-54 demographic," she said.
"Our research shows Magic will complement these brands and fill a significant gap in the market with an attitude and playlist that is currently missing from New Zealand radio."
MediaWorks group content director for music radio Leon Wratt said: "It's been fantastic collaborating on this brand with Ian, working up the imagery and the playlist, and knowing how much the audience will love hearing their favourite feel-good hits back on the airwaves. We really are 'bringing back the magic."
Ian Avery said: "We are bringing back fantastic music not often heard on radio today, hosted by an enviable suite of announcers who tap directly into the format and audience.  Authenticity is at the heart of the brand, and will create a Magic experience for consumers and customers."
Magic will broadcast on a network of frequencies acquired by MediaWorks in last year's Radio Spectrum auction. It will launch on April 20 in Auckland, Wellington, and Christchurch and be available nationwide via www.magic.co.nz plus mobile and tablet Apps. Magic will extend into 12 other centres in the following months.
---