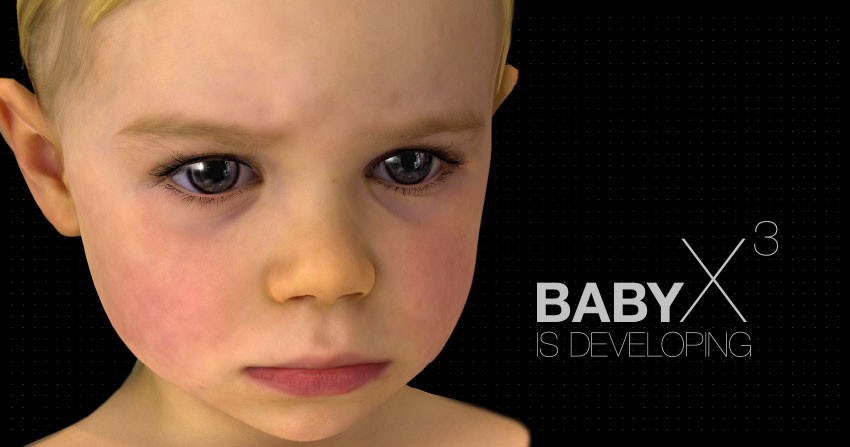 Auckland University associate professor Mark Sagar brought his new baby along to Colenso BBDO's latest Love This Speaker function on College Hill last evening.
Baby X3 is an astonishing screen creation – a cute-as little girl who learns emotions and behaviour like a real baby, and responds to a range of human expressions (like laughter, sadness, and anger).
Her responses are learned when her creators pour information from many sources – including an facial muscle anatomy – into her "brain". She sees through a camera, and hears through a microphone.
This is the third iteration of Baby.
She is not an animation – but a real emotions manipulation machine that holds profound implications for the future of advertising – not to mention film, TV … and airport avatars, talking refrigerators, and eye-responsive billboards and adshels.
She's like the seductive "woman" in the movie Her – but seems even more real. "And this is just the very beginning," Sagar told the 40-odd clients and staffers at the Colenso function. "We're going to build this up [Baby X3 is already in the works]."
He showed a startling video of Baby X4 learning to play a video game – the original digital tennis game. Baby watches for a while, picks up hang of it, frowns when the ball misses the bat – and smiles happily when it eventually makes contact.
The technology would allow agencies to run ads in and adshel with just a webcam and a $2000 laptop. Two adshels would produce two very different outcomes, depending on who is sitting in them.
"We're currently working on merging this new technology with our storytelling expertise," said Colenso digital CD Terry Williams-Willcock, introducing the agency's guest last night. Williams-Willcock was the brains behind BNZ EmotionScan, which used state-of-the-art 3D facial imaging coupled with artificial intelligence algorithms to track and analyse emotions in real-time.
---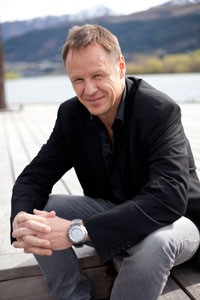 Dr Sagar is the director of the Laboratory for Animate Technologies based at Auckland University's Bioengineering Institute.
The laboratory is creating interactive autonomously animated systems which will help define the next generation of human-computer interaction and facial animation.
He previously worked as the Special Projects Supervisor at Weta Digital, and was involved with the creation of technology for the digital characters in Avatar, King Kong, and Spiderman 2 – work on computer-generated faces that was recognised with two consecutive Oscars at the 2010 and 2011 Sci-tech awards, a branch of the Academy Awards that recognises movie science and technological achievements.
M+AD's neighbour, a BNZ client, summed it all up in three words: "Kind of mindblowing," she said as the curtain came down.
Next up in the Love This Speaker series is Sir Ray Avery (on Thursday 18 September).
More about Mark Sagar here
---