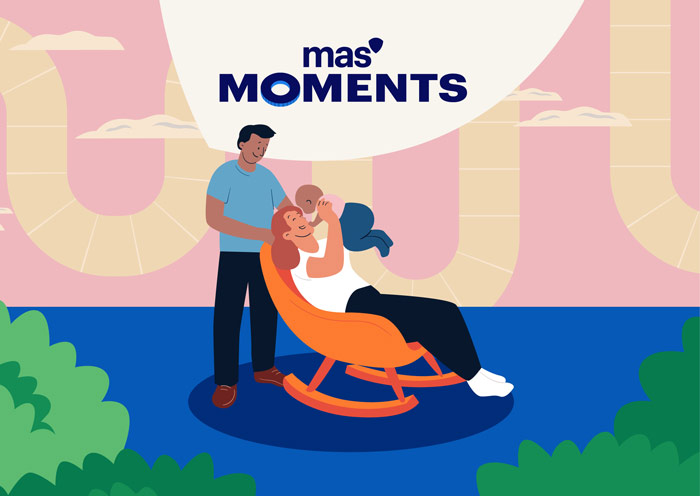 AUCKLAND, Today: Creative tech studio Method and MAS have teamed up to help the insurance/Kiwisaver company mark its 100-year anniversary, with an online board game developed by Method "to show MAS's continuing connection to New Zealand and its customers".
MAS chief member advocacy officer Mike Davy said: "Insurance isn't the most glamorous or exciting purchase you'll ever make, but it is at the top of the list for most important.
"To show how they're continuing to support Kiwis, MAS brought Method on to create an experience that shows insurance does have the ability to be interesting and engaging, all it needs is a slight spin of the wheel. 
"100 years is truly time to celebrate. So to showcase the brand's content in a fun and engaging way, Method developed the ultimate online game of life, MAS Moments. 
"To meet the brief, Method developed the creative solution of a 'Game of life' digital experience, loosely based on the popular Hasbro game, but this time with a twist. Creating it end-to-end through gaming platform Unity, Method was able to show audiences what product and protection MAS could offer, no matter what life throws your way.
"The online boardgame allows the user to spin the wheel and start their journey, progressing through 'life' as they go along the brightly coloured board. Much like any typical boardgame, Method's creation also includes chance cards that are special events that either impact you positively or negatively.
---
"To meet the brief, Method developed the creative solution of a 'Game of life' digital experience, loosely based on the popular Hasbro game – but with a twist."
---
"The game itself uses these chance cards to show how MAS can support customers through their life, starting from simple insurance needs such as car and content, all the way to health insurance and income protection.
"To add the much-needed competition element of the digital game, Method created an AI character to play against. The trick is to make it to the end of the board before the other player to win. To entice players, MAS is offering prizes to those who go in the draw upon completing the game.
"We wanted to give Kiwis a fun way to engage with the MAS brand. As a mutual with a 100-year history, we're a little different because when you become a customer, you become an owner of ours. It's why we can put purpose and great service above making a profit.
"The MAS Moments game lets people see a little more of our story and reinforces the importance of having insurance and retirement savings with a company you can trust."
Method MD Sam Ramlu said: "MAS Moments was a great way for us to create something fun for the company as they look to the next 100 years.
"MAS has been supporting Kiwis from all walks of life for a whole century. That's impressive and a decent lifetime in itself so we thought what better way to celebrate than to create a game inspired by The Game of Life!"

CREDITS
Client: MAS
Senior Digital Marketing Manager: Nikki Oesterle
Agency: Method
Creative Director: Sam Ramlu
Design Director: Matt Power
Designer: Sophie Douglas
Producer: Flavia Da Silva
Illustrations: Becca O'Shea
Game development: Roshan Nowshad
Animations: Lahiru De Silva
Web developer: Matt van der Haas
About Method
Method, established in 2003, is one of New Zealand's leading creative tech studios. The Auckland-based studio is the voice of authority when it comes to immersive technology, and has been bringing campaigns to life using digital, games, virtual reality (VR) and augmented reality (AR) across a multitude of different sectors. Method's mission is to educate and challenge the status quo and make an impact through creating unforgettable experiences. Method blends art and tech with smart thinking to create unique digital experiences in an underserved medium in the country.
---