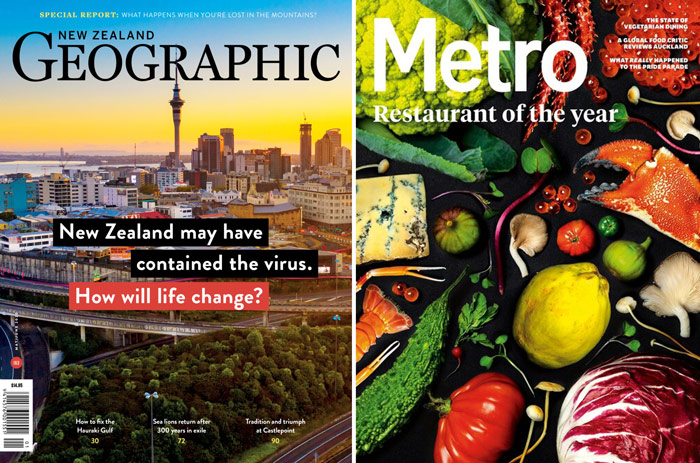 AUCKLAND, Today: The Voyager Media Awards judges chose Bauer's Metro as a 2020 Magazine of the Year – a popular decision, announced in an online screening on Friday.
Publication of the legendary title, of course, is currently suspended until a buyer steps up to claim it, presumably for a song.
Kowhai Media's current publishing sensation New Zealand Geographic was named alongside Metro as co-winner of the Magazine of the Year Award.
"The judges found it impossible to make a call between these two stand-out titles," said the judges (via a Voyager release).
"NZ Geographic is a class magazine with superb writing and visuals, and a portfolio of cross-platform offerings that amplify the brand and make it a national taonga.
---
"Stuff's Waikato Times won Newspaper of the Year (up to 30,000 circulation); the Sunday Star-Times was Weekly Newspaper."
---
"Metro, though, impressed us with its achievements in award year. Sassy, challenging and visually surprising. Some smart events and clever ideas for ad integration mean it achieves a lot with limited resources."
The New Zealand Herald named Newspaper of the Year (for the 10th time in 13 years), and Website of the Year.
The judges said: "Ultimately, we could not look past the New Zealand Herald's consistency and comprehensiveness and its record of setting the news agenda with incisive daily journalism. The Herald is a strongly-edited paper with a depth of content that sets it apart."
Stuff's Waikato Times won Newspaper of the Year (up to 30,000 circulation) for the third year running, and the Sunday Star-Times was awarded Weekly Newspaper of the Year.
Slack PR
The Voyager PR people don't make it easy to access their prize-winners, requiring category downloads (a tiresome process – scroll down for the link).
Nor do they issue a general trade release.
---